As a chess player, Jamarius Waller knows the importance of managing multiple pieces at once and planning the next move.
He has deployed these strategies well during his time as a University of Mississippi Medical Center student. So well, in fact, he will receive two degrees at next month's commencement ceremony.
Waller will graduate from UMMC's MD-PhD program, earning doctoral degrees in experimental therapeutics and pharmacology from the School of Graduate Studies in the Health Sciences and in medicine from the School of Medicine.
He's had plenty of experiences that steered him towards the double degree. After a childhood move from Atlanta to Mississippi, he attended the Mississippi School for Math and Science in Columbus, which "piqued his interest," Waller said. During college at the University of Mississippi, he "realized that I liked communicating with patients and that solidified my decision to do medicine."
But there was another factor closer to home.
"When I was younger, my mom had eczema and some complications because of it," Waller said. "I would tell my mom that I was going to find a cure for eczema."
After a summer in a Cincinnati laboratory studying cancer, he decided on a career path that would allow him to treat patients and discover those treatments.
"I was able to see what a physician-scientist does, and I was floored by that whole experience," Waller said.
He entered UMMC's seven-year MD-PhD program in 2015. This track prepares graduates for careers as providers and creators of medicine.
"He has done an excellent job balancing all of the demands of the program," said Dr. Lee Bidwell, professor of neurology and Waller's PhD advisor.
Waller's UMMC research started with summer stints during his earlier medical school years. He contributed to two papers examining elastin-like polypeptides, molecules that Bidwell and others at UMMC are using to develop new ways to deliver drugs for hard-to-treat conditions.
"I consider co-authorship on two papers from summer research rotations to be exceptional productivity for an early trainee, and this achievement is entirely attributed to Jamarius' strong work ethic and excellent lab skills," Bidwell said.
Waller's dissertation focused on a way to treat preeclampsia, a condition where blood pressure rises during pregnancy and can have serious consequences for mother and baby. While many factors contribute, blood vessel changes in the placenta can lead to reduced blood flow and harm fetal development. His goal was to use ELP to shuttle a protein called VEGF to the placenta. VEGF promotes the growth of blood vessels, which Waller thought could alleviate the condition.
Using a laboratory model, "we were able to show that this combination can reduce blood pressure," Waller said.
The American Heart Association chose the resulting paper as one of its highest impact publications for 2021.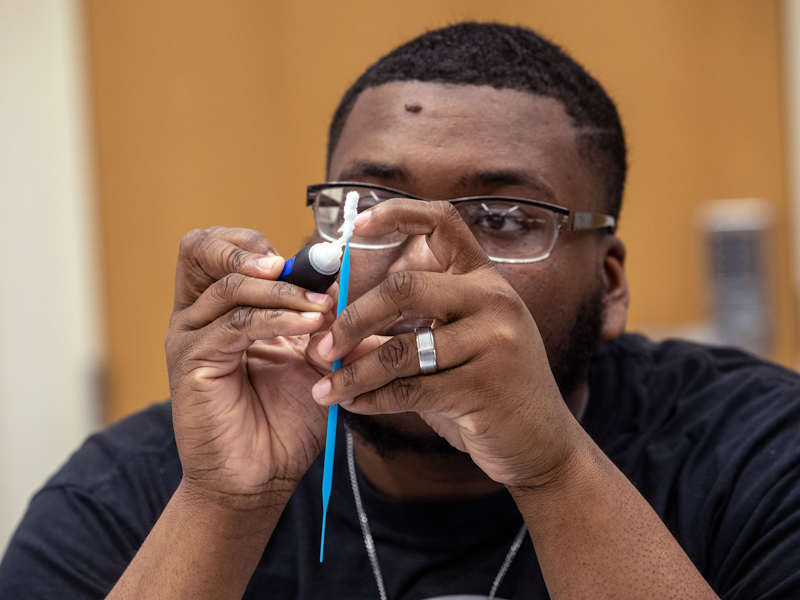 Waller's interest in cardiovascular diseases led him to other research opportunities at UMMC. He joined the Jackson Heart Study's UMMC Graduate Training and Education Center as a Dr. Robert Smith Scholar. He worked with JHS mentors to study the epidemiology of vitamin D deficiency and type 2 diabetes in African Americans.
"Epidemiology is so powerful because it allows us to ask real-world questions," Waller said.
Waller says the "most impactful personal activity" while at UMMC is helping build and now lead the School of Medicine's African American Visit Day.
"We started this day to address the disparity in African American male physicians that was highlighted by a [report from the American Association of Medical Colleges]," Waller said. "For this day we recruit students from around the state and bring them to UMMC for a day of fun and learning about medicine. It's truly been one of my greatest joys introducing high school and college students to the field of medicine and even serving as a mentor for some of them."
He has participated in other outreach as well, such as the Jackson Free Clinic.
"Jamarius is a great person to be around — happy, friendly and a giving spirit," Bidwell said.
Waller's next move will bring him back to Atlanta. He will continue his training in Emory University's physician-scientist training program. After two years of internal medicine residency, he will join a research lab doing work on cardiovascular disease.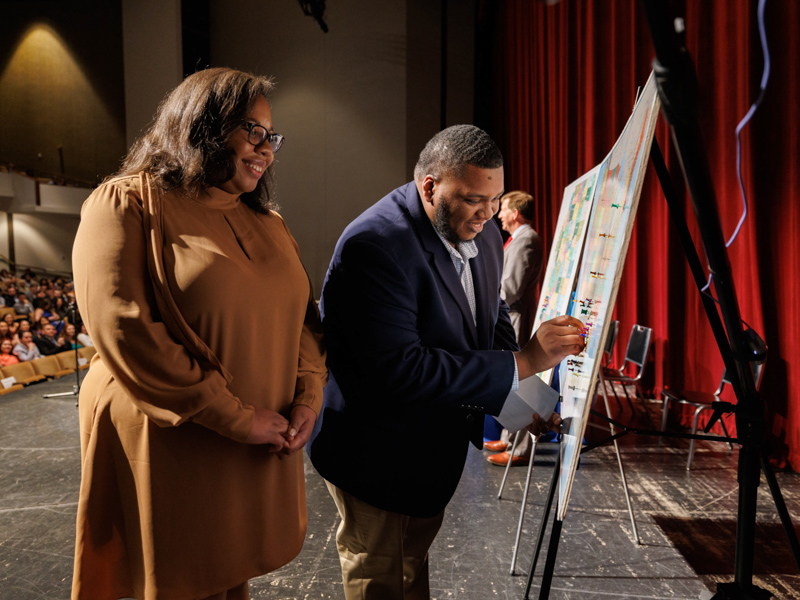 "Then, my plan is go on to a cardiology fellowship which will allow me to design my own research projects," Waller said.
Coming with him is his wife, Dr. Brianna Waller, a School of Pharmacy alum, their "energetic" dog, and his collection of vinyl records.
"I'm most interested in 70s and 80s R&B and soul albums," he said. The king of his collection? A special edition of Michael Jackson's "Thriller."
Waller is thrilled to be going back to his home city, but he also plans to come back for visits with his mom in Jackson and relatives across Mississippi. He also leaves behind some advice for other physician-scientists in training.
"Embrace failure. I know it's a bit cliché, but you can learn the most from yourself in those moments," Waller said. "Take your ego out of it."
By: Karen Bascom