Email us a photo of your favorite Ole Miss moment and why it was special to you.
Please include your name, major and school/college.
We'll collect your photos and include them on the Journey to Commencement website.
Mallory Etter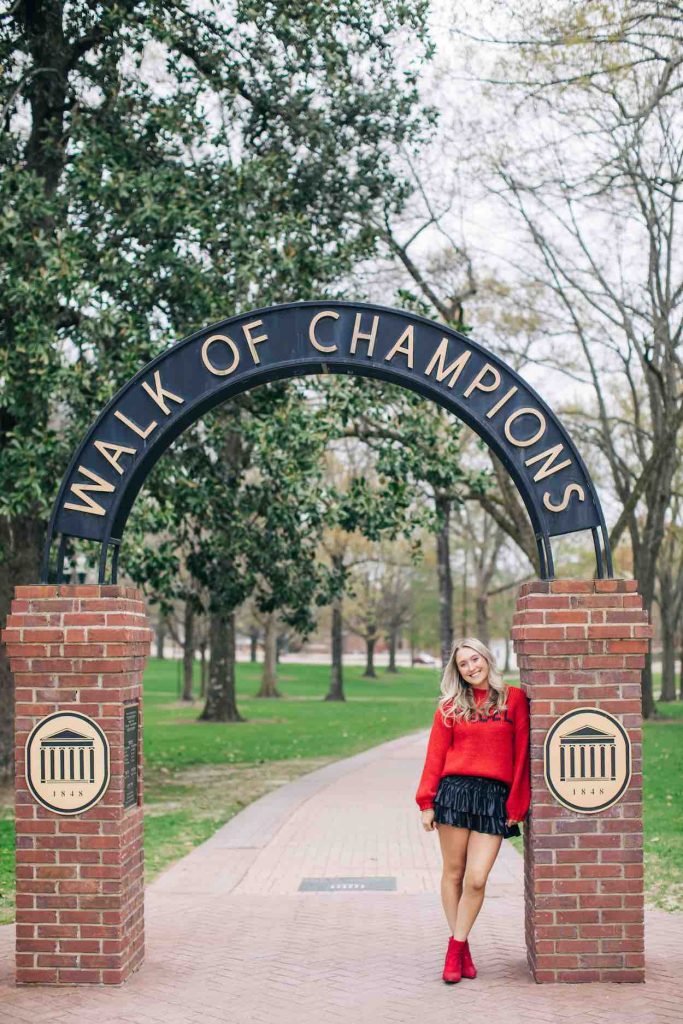 Major: Hospitality Management with a minor in Business and emphasis in event management.
School of Applied Sciences
These past four years at Ole Miss have been a remarkable journey for me exceeding everything I have hoped for in my college career. Oxford is easy to fall in love with and calling it my home is a blessing. The culture, environment, students, and faculty welcome you with open arms exemplifying this fantastic University. I could not have completed the past four years without my family's love and support. Thank you Ole Miss for the best undergraduate anyone could ask for.
---
Ethan Benefield
Major: Integrated Marketing Communications with a minor in Business
School of Journalism and New Media
Being a regional campus student here at Ole Miss has its advantages and disadvantages. The academic environment here at Tupelo is a wonderful experience, but it's just not the same experience as the main campus in some instances, especially socially. That's why I joined the Alpha Kappa Psi fraternity. Through these wonderful and prestigious organizations, I was able to develop friendships with many brothers, as well as expand my knowledge and readiness for the next chapter of my life. It was also a great way to get connected on the main campus with other students.
With that being said, we just recently were gifted the opportunity to travel to Chicago with 9 other brothers for a Leadership Conference. On the first day, we explored the city and spent a few hours getting to know each other better as a brotherhood. I'd say it was the most memorable moment during my time at Ole Miss. Especially because Ole Miss helps foster the ability for organizations like Alpha Kappa Psi to thrive and gather. At this conference, we learned the key pillars of what it means to be a leader and how we can apply leadership to all facets of life, but more specifically in the workplace. I decided to sit in on the servant leadership, where we learned to listen empathetically and lead by serving others. There was a great amount of personal growth and opportunity taken from this event that I will be able to take with me throughout every phase of life after graduation.
Networking with others is vital, but having other students to connect with and get to know as close friends is priceless. I can't adequately describe how much this organization and The University of Mississippi mean to me, and just how impactful my time as a student has been. I'm forever grateful for all the ways in which Ole Miss and AKPsi have shaped me into the man and professional I am today.
Hotty Toddy and Happy Graduation to all my fellow classmates and graduates! I pray for success to all those entering this next chapter. I know Ole Miss has a wonderful reputation for building amazing individuals, and I have no doubt the class of 2023 will exceed that reputation!
---
Carter Diggs
Major: Print Journalism
School of Journalism and New Media
Getting to hike up Mt. Inari was the climax of the trip to Kyoto I took with the friends I made while studying abroad at Sophia University.
---
---