Maali Alshammari finds a passion for mentorship during her educational journey.
Maali Alshammari knew her time in school wasn't finished just yet.
Originally from Riyadh, Saudi Arabia, Alshammari received her bachelor's degree in pharmaceutical sciences from King Saud University. But instead of beginning her career, she sought out new educational challenges.
"I had the option to work as a pharmacist, but I knew that was not the right path for me," Alshammari said. "Instead, I wanted to continue my education in medicinal chemistry."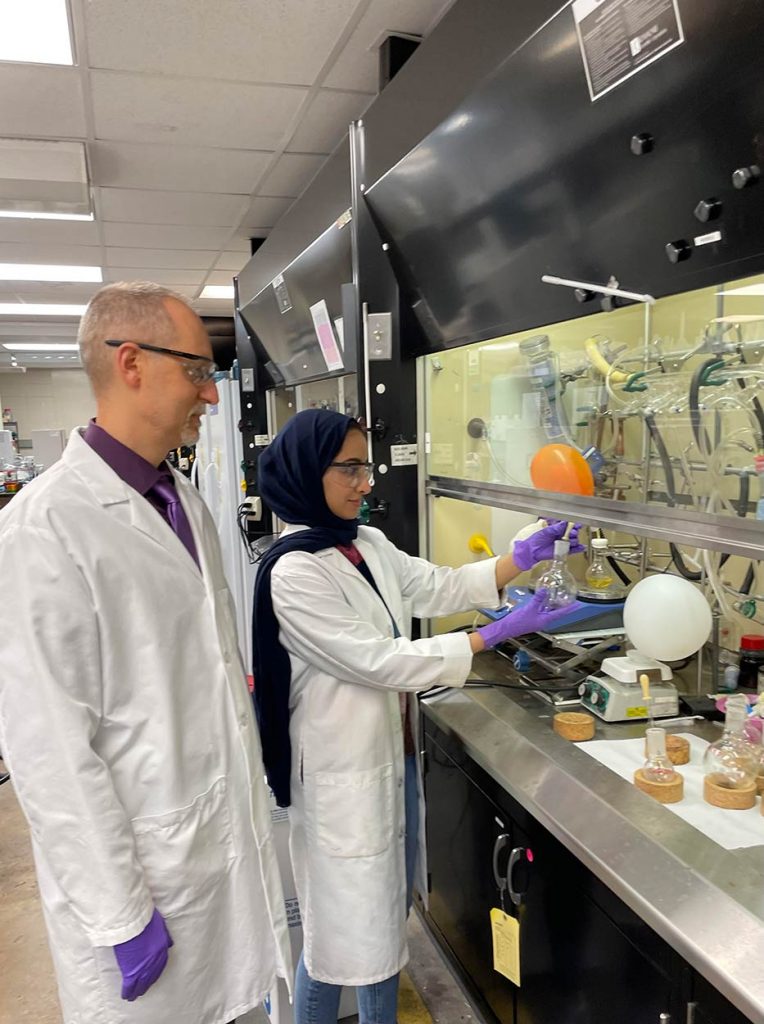 It was that desire that led her to the University of Mississippi School of Pharmacy. Alshammari joined the medicinal chemistry division of the Department of BioMolecular Sciences as a master's student in 2017. Since then, she has worked in the laboratory of David Colby, associate professor of medicinal chemistry, and is nearing the completion of her doctoral degree.
"I enjoy working with Maali," Colby said. "She is a curious young scientist that is not afraid of taking risks."
Colby noted that in addition to her scientific talents, Alshammari has emerged as a leader and acted as a mentor to other students.
"Maali has shown talents in managing, organizing and training other students," Colby said.
This leadership role is something that Alshammari relished. As a mentor, she has helped both undergraduate and graduate students accomplish their desired research outcomes. This involved developing customized plans for students tailored to their specific lab skills, as well introducing them to more sophisticated techniques, Alshammari explained.
"I learned that it is crucial not to overwhelm students with tons of new information and give them the necessary time to become more comfortable in a laboratory setting," she said.
Alshammari said that mentoring students is one of her proudest achievements of her time at Ole Miss, as she has worked closely with eight students. She credits Colby for providing an example of how to be a leader in a laboratory.
"Dr. Colby is a great role model for running and maintaining a successful and productive laboratory while caring about the well-being of his lab members," Alshammari said. "I learned from him that high-quality research requires discipline, patience and, most importantly, effective scientific communication."
Besides helping fellow students, Alshammari has excelled as a researcher in her own right. During her time at UM, Alshammari published three manuscripts in peer-reviewed scientific journals.
She received the Outstanding Graduate Student Award in Medicinal Chemistry and the Graduate Student Research Grant Award, as well as being named a finalist for the Merck Research Award for Underrepresented Chemists of Color, a nationally competitive chemistry program. In recognition of her accomplishments, Alshammari was inducted into the Rho Chi Pharmacy Honor Society.
All that hard work is beginning to pay off. After graduation, Alshammari is returning to Saudi Arabia, where she will be an assistant professor of pharmaceutical chemistry at the University of Hail.
She is excited for this next chapter in her career, but said that leaving Oxford will come with some mixed emotions.
"I am excited to graduate and start my independent career after being in school for a very long time," she said. "Still, at the same time, I will miss Oxford, which has become my home for the past five years, so it's more like a bittersweet moment."
Though she may be leaving Oxford, Alshammari will carry her love for mentoring students with her.
"Without a doubt, I will continue to mentor students in my career," she said. "It is a fundamental part of being in an academic profession and a huge responsibility.
"I believe that the quality of future scientists depends on the mentoring abilities of their advisors."
By Patrick Smith, School of Pharmacy