Email us a photo of your favorite Ole Miss moment and why it was special to you.
Please include your name, major and school/college.
We'll collect your photos and include them on the Journey to Commencement website.
---
Bailey Kenney
Major: Masters in Sport and Recreation administration – HESRM
Officiating the special Olympics State Basketball tournament was a highlight during both of my years as the Graduate Assistant of Intramural Sports and Sport Clubs.
André Smith
Major: Biology with minors in Chemistry and Society & Health
Hometown: Tylertown, Mississippi
One of my favorite Ole Miss moments was attempting to cross another goal off my collegiate bucket list – becoming Mr. Ole Miss. This has been a goal of mine since enrolling as a freshman at The University of Mississippi. One challenge was constructing a cohesive committee to help me throughout the process. This was more strategic than expected due to the reality of the importance of teamwork. From creative thinking to logistics to photography/videography, the importance of forming a cohesive team was paramount. We spent several nights brainstorming, video shooting, and editing to ensure that the content was both authentic and high in quality. Throughout the campaign, I distributed stickers and buttons to several students. Additionally, I discussed my service project, which focused on addressing one of Mississippi's greatest needs, health, and offering healthy alternatives to college students as well as the children in the community. Even though I did not take home the win, I am filled with gratitude for all the support I received. I do not see this as a loss as one would expect; instead, it shows that I have made a significant impact in the Ole Miss community.
Sarah Doty
Major: Public policy leadership major with a minor in disaster sciences
Hometown: Brookhaven, Mississippi
My favorite Ole Miss Memory helped me come full circle last summer. I was a member of the Trent Lott Leadership Institute summer high school program during the summer before my senior year of high school. I was in love with the campus and getting to spend a week in Washington, D.C., is one of my favorite memories. We even got to meet Ole Miss grads who were working up there and it really inspired me. I am the only member of my family who chose to go to "The School Up North" and I suffer endless teasing from my bulldog older sister, dad, brother, and grandfather, but I knew there was something special about Oxford. Last summer I was honored to be chosen as a White House intern in the Domestic Policy Council. I fully believe that my time in the Lott Leadership Institute and as a student at Ole Miss helped shape me into the person I am today!
Adrianna Guin
Major: Criminal Justice
Ole Miss is where I found myself. I realized that being myself is the best that I can be, and I was able to make friends for life because of Ole Miss. With the help of my teachers and friends, I have been able to complete my degree in Criminal Justice.
Nicklaus Cole Blue
Major: Managerial Finance & Banking Finance with minor in chemistry and biology
This picture was taken for my campaign for senior class president last year. Ole Miss has impacted my life in more ways than imaginable. I wanted to run so I could unite our senior class together for our senior year and raise money for a class gift that would impact Ole Miss for the better. Our original plan to raise money to replace the artificial Grove turf was changed after the Coronavirus pandemic came to light. We are now raising money for the student emergency fund to help students in need during this current situation and future emergencies.
Amanda Honeycutt
Major: Pharmacy (PharmD)
Hometown: Booneville
My favorite memory from Ole Miss was my White Coat Ceremony on August 13, 2015. It was the last event of mine that my father was able to attend before he passed away due to cancer later that December. This photo was the last picture we ever took together. It was a special night, as it signified my entering professional pharmacy school. It was a big deal to my family because I was the first Honeycutt to graduate high school, much less attend college and pursue an advanced degree. That night will forever hold a place in my heart!
Maeve Bradley
Major: Criminal Justice with an emphasis in Homeland Security, and a minor in Political Science
My favorite moment at Ole Miss in the all too short 3 years I have been here was making bonds with people I know I will have with me for the rest of my life. By belonging to a community of Rebels that span the entire world, I have been able to travel to places that I believe I would not be brave enough to do alone. Ole Miss provides strength in numbers, and I know with certainty that my time at Ole Miss will keep me bonded to every person I have met here beyond the city limits of Oxford, Mississippi.
Hesham Bahhur
Major: Management Information Systems
My favorite ole miss moment was walking through the various areas of the main campus. I would walk around like a tourist and check out various things they had. This picture here was my favorite spot to walk through. I would come down to the main campus from DeSoto once a week to take advantage of the career center options that were available to us here. It was a drive, but it was worth it.
Jessica Francesca Duffield
Major: Journalism (School of Journalism and New Media) with minor in business
Hometown: La Romana, Dominican Republic
Four years ago, I left my country, The Dominican Republic, and decided to come to this small place called Oxford, Mississippi. It has been my home away from home ever since. The best decision I ever made was coming to a place I knew nothing about and following my heart into a new and exciting life. My first time on campus, I automatically felt safe, wanted, and loved. I never felt uncertain about the decision I made. I have always received constant support from the Journalism School and was always encouraged to be the best version of myself. It is hard to choose only one of my favorite Ole Miss memories when every day, I made new ones. With internships experience in different countries and being part of the social media team at the Division of Outreach, I am confident that I am prepared and ready for this new chapter of my life. Ole Miss has helped me grow into the person I have always wanted to be, and I will forever be proud to call myself a Rebel!
Hotty Toddy.
Anna Spears
Major: Biology with a minor in chemistry
By far the best experience I have had was getting the opportunity to cover the yearbook story on the chancellor. Instead of taking the 30 minutes I gave him for our interview and marking it off as a checkbox, he offered me to lunch and we got to talk about a variety of things including life for about 2 hours. It was a memorable experience that I will cherish forever.
Austin Smith
Majoring: Managerial finance
To me, this picture signifies something excellent and great: family. My experience at Ole Miss has been like none other. If I were to wrap it all in one, it would be this picture. It represents unity, friendship, brotherhood and a long-lasting bond that was intentionally crafted by forming cross-cultural and shared experiences.
Kaitlin Wilkerson
Major: Management with an emphasis in human resources
This is a picture of my Bible study with Chi Alpha Campus Ministries. I've been a leader for 3 years now with this ministry, and the community we have with one another is the most important thing from my time at Ole Miss. These girls are my sisters, and I couldn't be more grateful for them.
Rebekah Williams
Major: Social work with a minor in psychology
Being a student volunteer at the annual social work conference. It was not only an awesome experience full of knowledge, but it was great to serve other social work students. Isn't that what social work is all about?
Ashley Surber
Major: Integrated Marketing Communications with a specialization in Social Media
It's so hard to narrow it down but one of my favorite moments during my 4 years here at Ole Miss was my last home football game this fall. It is such a fun and special thing to attend home games, and I made it a point to not miss a single one this past season. I am so grateful I got to spend the last game racing to the gates to not miss "Locking the Vaught" with my best friends. We made it just in time and all burst out in tears as we found spots in the stands, realizing it was the last time we would ever be experiencing the game as students. It was such a bittersweet moment that I will always remember. What a time it has been being an Ole Miss student. I can't believe my time is up, but I am forever indebted to this amazing place!!
Lauren Koehler
Major: Exercise Science
One of my favorite moments at Ole Miss was when I defended my thesis on the effects of acute exercise and psychological stress on episodic memory. This photo is the culmination of many years of late nights studying and long hours in the lab. What this photo doesn't show is the many fits of self-doubt, discouragement and feelings of inadequacy. It also doesn't show the wonderful professors, advisors, coworkers, friends and family members that encouraged me, taught me and believed in me over the years when I did not believe in myself. This same girl pictured who was waitlisted, rejected and who always considered herself never smart enough can proudly say today that she is a published author, received great medical experience working as a student athletic trainer for the sports teams at Ole Miss and is going to pursue her Doctor of Physical Therapy Degree in the fall. Never give yourself limits. You may always feel second best and never good enough, but closed doors always lead to the path you were always meant to take.
Emily Capponi
Major: English with an emphasis in creative writing and minor in teaching English as a second language
Hometown: Seattle, Washington
This picture was taken on my 21st birthday when my best friend (a fellow Ole Miss alumni) flew across the country to surprise me. This was the most special and beautiful weekend of my life, and I'm so lucky I got to share it with all of my best friends from Ole Miss. I had the best four years in Oxford. Graduating is very bittersweet.
Calvianna Brassell
Major: Legal Studies with an emphasis of paralegal with a minor in English
Hometown: Oxford, Mississippi
One of my favorite Ole Miss moment/memory is being able to attend The University Of Mississippi and becoming an Ole Miss Rebel. Being from Oxford, I've had many opportunities to be around Ole Miss students and being on the campus. It has be one of the best things that has ever happened in my life. Ole Miss will forever live inside my heart!
Savannah Sullivan
Major: Elementary Education
This picture is important to me because it captures all of my accomplishments in one picture. It shows the hard work and dedication I have had for my education, and it honors those who have helped me reach this accomplishment. I am a first-generation university graduate, and I have always dreamed of this moment. Being at Ole Miss has taught me to be more confident in myself and be brave in every situation. It has taught me to make deeper connections with others and not to be afraid to share the Gospel with those around me. I am so grateful for my time at Ole Miss. If I could do it all again, I would in a heartbeat. I will be continuing my education in the Accelerated Nursing Program at UMMC starting the Fall of 2020. Hotty Toddy!
Hannah Williamson
Major: Integrated Marketing Communications with a specialization in Public Relations and minor in General Business
This picture was taken during football season this past fall with my brother, who graduated from Ole Miss with his bachelor's degree in 2010 and his masters in 2011, and my mother, who we both owe it all to for putting us through school at the greatest university. I grew up an Ole Miss Rebel, so spending time with my family in The Grove as a student was definitely one of my favorite parts about being a student at The University of Mississippi. Hotty Toddy forever!
Trevor C. Miller
Major: Liberal Studies with minors in English, Sociology, and Society & Health
Hometown: Houston, Texas
My favorite Ole Miss memory was during my first semester here, back in the Fall of 2016. I moved here to Oxford, only knowing less than four people. Leaving behind my family and friends and starting a new life that would change me forever. When I moved into my dorm room, Minor Hall, I met some of the most amazing people from all across the country. We all gathered and got the opportunity to cook an amazing spaghetti dinner with garlic bread and salad. As we were all once strangers, this dinner brought us all together and gave us the chance to truly bond together and get to meet one another. After that moment, we all become so comfortable with each other and had our door open for anyone to visit. Before we knew it, we all spent countless game days in the grove together during the football season as well as baseball games in Swayze and eating POD Sushi or Papa Johns in the basement in our study rooms. The times I spent in my dorm room helped me truly flourish and surround myself with some amazing people and find some of my best friends. Love you forever, Ole Miss!
Taran Carrasco
Major: Public Policy Leadership with a minor in chemistry
I have had so many incredible opportunities at Ole Miss, but one experience that really shaped my journey at UM was Alternative Spring Break my freshman year. It was so rewarding to travel to Las Vegas and the Grand Canyon with Ole Miss Student Housing because I got to grow close with 14 other students, as well as graduate assistants, that I otherwise would have not met. Our group did multiple community service projects in Las Vegas, and this trip taught me how to be a true member of the Ole Miss Family. Alternative Spring Break inspired me to get involved with the university community, as well as the Oxford-Lafayette community. This experience helped me to find a love for engaging with, and serving, my communities.
Sam Bates
Major: Management Information Systems
Hometown: Jackson, Mississippi
The 1936 yearbook dedication called my great-grandfather a "true son and leader of Ole Miss." As a fourth-generation Rebel, I certainly do not believe that I am capable of living up to that legacy, but I do believe the impact that Ole Miss had on me is unique unto itself. My favorite moments at Ole Miss were when I had Vaught-Hemingway Stadium to myself on the mornings before a game, experiencing the ups and downs of the game from behind the camera, and flying with the team to away games. I will always cherish my time spent on the sideline, in the press box, and at practice with Ole Miss Football. I will also cherish my time spent with my brothers at Phi Delta Theta, early morning coffee with our house mother, joking with Willie, Mama Dee's chicken wings, parties, and late nights studying at the house. Did I mention that I got married during Tri Delt Wedding Swap? I will always cherish time spent outdoors and traveling to new places with my friends and Phi Delt brothers. I will miss sharing moments of inspiration with my fellow classmates when I would finally figure out that one line of code that was keeping an entire program from working. I will miss traveling to conferences with my professors. I will miss Rev. Kirk LaFon's thought-provoking liturgy lessons at St. Peter's Episcopal Church, his themed noonday prayers in Paris-Yates Chapel, and his eagerness to help me better understand my Episcopal faith. I have to admit, I will even miss mimosas and crawfish etouffee on the square after church on Sunday. I am excited for the next steps in my new career moving on from Ole Miss. I will wear my letterman jacket proudly, display my diploma prominently, and Ole Miss will always be near and dear to my heart. Hotty Toddy!
Kristopher Storey
Major: Broadcast Journalism with a minor in Religious Studies
I was a manager for the Ole Miss Women's Basketball for four years. It has truly been an amazing experience. I have been able to connect and create friendships with so many people. This opportunity allowed me to see the world and I will never forget the impact Ole Miss Women's Basketball has had on my life.
Nathaniel Bain
Major: Social Work
Hometown: Rienzi, Mississippi
My favorite moments at The University of Mississippi was working with my fellow members of our student social work organization as the Vice President my junior year and President my senior year. We had one of the most active and goal driven members of any organization in my opinion. We always were finding new ways to help make our community better. I cannot wait to see all that they will continue to do next year!
Claire McNeese
Major: Social Work
I have had the experience of a lifetime here at University of Mississippi Tupelo campus. I grew so close to my classmates throughout the two years together and we have become family. I also had three teachers that were the best at showing us how to better be social workers and prepare us to go out into the workplace and be the best social workers we can be. So I would have to say that my favorite memory was the close relationship between us students and the teachers. I could not have asked for better peers to grow along side through this process.
Noah Gabriel Hodes
Major: Finance
This memory was special to me because my family came up from Texas spring of my freshman year. The weather was amazing and we spent all weekend going to baseball games, exploring Oxford and spending time together enjoying Ole Miss my first year as a student.
Ashley Standifer
Major: Social Work
One of my favorite moments at Tupelo was during Christmas time when me and my cohorts played dirty santa. Brittany Murphy's gift was the dirtiest of all them (literally). I have met so many amazing people while on this journey. We have become more than friends, we are family. I want to thank Ole Miss for bringing us together. To my family, if you are reading this: This is not goodbye, it's a see you later!
Jayce Toledo
Major: Exercise Science with a minor in Gender Studies
Hometown: Sarah, Mississippi
My favorite memory from my time at Ole Miss is when I was given the opportunity to work with Ole Miss Athletics Premium Services. I was given the opportunity to meet and talk to so many wonderful and influential people. They gave me advice, we laughed, and most importantly, I was able to help such amazing people and learn from them as well. This job even helped me to treat my family to their first college football game which was an experience none of us will ever forget. Thank you Ole Miss and everyone I've met for making my time here worth while!
Destiny Horn
Major: Law Studies
I'm a non-traditional student with a daughter in kindergarten, I was lucky enough to have worked in the Biology office for two years while pursuing my degree. They were a wonderful work family that allowed me to balance being a mom, employee, and student. They were among the first to celebrate my admission into the University of Mississippi School of Law. This photo is from the snow day we enjoyed in December 2019.
Hannah Wilson
Major: Communication Sciences and Disorders
Hometown: Cambridge, MD
My favorite Ole Miss memory was my first week of school. The first week of college was very stressful, but it was also very exciting. The first week of college made me realize that I had made the best decision of moving 15 hours away from home. Ole Miss has brought me people that can make any place feel like home, and I am forever thankful.
Hannah Perrigin
Major: Multi-Disciplinary Studies
My favorite Ole Miss memory was winning Ole Miss Most Beautiful 2019! It was an honor and dream come true to represent my school with this title.
Christiane Tristan
Major: Multi-Disciplinary Studies
My favorite moment/time at Ole Miss has been being a part of Ole Miss Esports. Joining the organization, I was able to find a community of people who shared the same passions as I did. Ole Miss Esports has given me a passion and a purpose while at Ole Miss. Throughout my time with Esports, my absolute favorite moment was winning the Esports Egg Bowl against Mississippi State! It was awesome to have a tradition from football carry over to esports. The fun of the rivalry, as well as cheering on your close friends, was exhilarating. We had to bring an Egg Bowl trophy back home to Oxford! #OleMissEsports
Shunderla S. Wilson
Major: Secondary Science Education with an emphasis in Biology
Hometown: Sardis, Mississippi
I have so many moments that have truly made my experience here at The University of Mississippi worthwhile. If I had to pick one of my favorites, it would definitely be becoming a UM Graduate Ambassador. During my undergraduate experience here at the university, I dreamed of becoming an ambassador; unfortunately, my life did not allow me to achieve my dream. When the dream presented itself again during my graduate experience, I was thrilled. I was even more ecstatic when I received the confirmation I was elected as a UM graduate ambassador. Everyone may think of ambassadors as the individuals who give tours to prospective students, but I consider the role as so much more. Ambassadors are the spokespeople for the university when recruiting and telling students how wonderful being a student here at the university is. We are one of the first smiling faces students see when visiting, and it is our duty to encourage students that this the place to be. I am just honored I was able to be a part of something so special as aiding someone in choosing The University of Mississippi for their college experience. I am and always will be a proud alumni of Ole Miss! Hotty Toddy!
Allyn Flautt
Major: Biological Science with a minor in chemistry
Hometown: Grenada, Mississippi
Narrowing down to one memorable moment from my time during Undergraduate school is very difficult. Ole Miss has given me more opportunities than imagined. One memory I will cherish forever is my service-learning trip with MEDLIFE to Cusco, Peru. I had the opportunity to travel to South America to provide medical care to underserved communities outside of Cusco, Peru. I learned many valuable lessons about global healthcare that will be of importance to my future career. Through Ole Miss and MEDLIFE I was able to serve as a leader, president of this organization, and volunteer my time abroad, only strengthening my passion for service. The memories made not only in Oxford but also across the country and world will be engrained in my mind for eternity. The relationships formed here over the past 3.6 years will be forever cherished. Thank you, Ole Miss.
Helen Hua
Major: Pharmaceutical Sciences with a minor in chemistry
When I think about my time at Ole Miss, I cannot imagine it without my involvement in Ole VASA, Pi Phi, and the School of Pharmacy. How can I pick one memory that stood out the most? Truth is, I really can't. Ole Miss gave me all of these organizations and programs that have really impacted my life. They have given me my best friends, and so many memories that are meant to last more than a lifetime.
Ole VASA, thank you for giving me more exposure to my roots and my culture. I grew up not having any friends that I could share my Vietnamese heritage with but Ole VASA gave me a chance to surround myself with people that are truly like me. I have had the honor to serve as the intern, secretary, and the senior advisor of this wonderful organization and have watched it grow over these past four years. We have gone through a whole rebranding of our organization, and have improved so many aspects of our VSA. I am so proud of how far we have come together. Ole VASA really has a special part in my heart, and I am so thankful for every person that I've met and grown close to through it.
My college experience would not have been so great without Pi Beta Phi either! My sisters have been there for me every step of the way these last four years. We have had way too much fun at sisterhood events, socials, and at our philanthropy events each semester. I think my favorite experience in Pi Beta Phi, would have to be reading to the students at Lafayette Elementary school twice a week and hosting a literacy carnival for them. I am so thankful for MS Beta and all that it has given me, especially my group of friends that have been supportive of everything I try to accomplish.
Lastly, I would have struggled so much through school without my amazing pharmacy friends, advisors, faculty and staff. There's a reason why the UMSOP is ranked top 25 in the nation right? Yes, we truly are a phamily here even though it is super cringe to say. We have gone through so much together especially this year, our first professional school year. We have experienced five 7:30 am exams within two weeks and a difficult finals week where we have a final every day, but we have SURVIVED. I definitely could not have done it without my classmates who have helped make study guides, held tutoring sessions, created Quizlets, provided funny jokes and motivation throughout the years. There are some that have been here since the start of Early Entry and many that have joined us in pharmacy school that have made an impact on my life for the better. They have made our heavy course load a little lighter, and I am so thankful for everyone of them.
THANK YOU OLE MISS for the best four years and here's to three more with you!!!
Alisheia Scott
Major: Educational Leadership
Hometown: Saginaw, Michigan
My favorite Ole Miss DeSoto Campus memory were the long yet intriguing discussions of the following topics: Equity and Cultural Leadership; Instructional Leadership; Data-informed Leadership; Ethics and Professional Norms; School Turnaround. My specialist degree would have not been possible without God, my family, church family, cohort members, mentor, and professors. Dr. Bartee, Dr. Bunch, Dr. Cossey, and Dr. Bolden thank you for building my professional capacity to become an Educational Leader!
Randarious Cooper
Major: Marketing & Communication Strategy
Ole Miss is a place that provokes many emotions. I have experienced most if not all of the emotions tied to attending my soon to be alma mater. To be truthful, the majority of my time at Ole Miss was filled with lingering sadness. This was due in part to my lack of self-awareness and understanding of my intrinsic worth. I had to readjust and make room for the things that were essential to my mental health. For instance, building bonds with incredible individuals who stand in my corner and offer genuine support. Also, doing things that truly make me happy. In retrospect, every obstacle and adversarial moment I encountered has instilled an invaluable lesson. I may have had to sacrifice somethings during my time at Ole Miss but the things I have discovered far outweigh my losses. I walk today with the confidence to be myself, live in my truth, and follow my dreams… What A Time!
Rex Ravita
Major: Broadcast journalism
My favorite part about my college journey was being around some really inspiring people at the journalism school, some that really changed my life. I was able to overcome so many obstacles over the last 4 years. A few people that really deserve recognition are Jennifer Simmons, Iveta Imre, Michael Fagans, Vanessa Gregory and Nancy Dupont. I'm truly am so proud of myself and everything I've accomplished these four years at Ole Miss and I can't wait for the future!
Diego Machado Reyes
Major: Biomedical Engineering
I arrived at Ole Miss in Fall 2016, full of excitement for a new adventure, but at the same time, concerned about my role as an international student from Mexico. The first day is always the most complicated, after traveling all day my brain was still racing to understand a different language and adapt to a new culture. A sea of emotions was becoming agitated inside me, sadness from leaving my family at the airport, enthusiasm for new experiences, stress from solving problems in a different language and thrill for meeting new people from all around the world. Over the last four years, all those emotions remained, but I added happiness to the list. I am happy for all the new long-lasting friendships, happy for all the knowledge I have acquired, and happy for all the experiences that shaped me as a better person. My favorite moment at Ole Miss is a snapshot from a reunion with my friends for my birthday, it was a blissful moment that represented my journey at Ole Miss, we were all together, laughing, dancing, sharing, bonding, in that sublime moment it was when I knew I had formed a new family.
Mavis Dawson
Major: Ed.D. in Education
This is by far one of the most memorable moments on this educational journey at Ole Miss (for me)! The completion of this walk of champions ended with this photo of Cohort 3's last "physical " day of class. This moment in time represents perseverance and a commitment to strive for excellence from a group of people who share a common goal: promoting student success in every way each and every day! Hotty Toddy baby!
Eric G. Johnson
Major: Ph.D. in Music Education
Having the ability to not only sing in the Ole Miss Choirs, but also to conduct my wonderfully talented friends and colleagues is something I will never forget. The Ole Miss Choral Department has defined my Ole Miss experience and has given me memories and friendships that will never be forgotten.
Steve Cochran
Major: Integrated Marketing Communications with business administration minor
There was quite a different route to and through my collegiate years; it had always been a dream of mine from the time I was a small child to attend the University of Mississippi and "officially' be an Ole Miss Rebel. As a child I also was obsessed with and loved art, I would draw and paint on anything and everything. I would carry around a cover from an old notebook of an older cousin with Colonel Rebel on it, and every free moment I had I was determined to master the art of drawing him, and he suddenly appeared on everything. My high school years I was still extremely passionate about drawing and I was determined that I would be traveling to Oxford post-graduation. I faced criticism from teachers and counselors and some family members telling me that I really should focus more on my school work "all that doodling" was never going to amount to anything. I knew that although I was decent at sports, there definitely was no scholarships in my future there, so I guess I had to improve academically. Another obstacle presented itself in life, and I left Mississippi after graduation. I was still determined that one day I would get that degree. When a fellow student approached me to do a photo essay assignment on me and my artwork for her class I was beyond shocked and ecstatic. Then in the last semester of a dream that I thought I would never see come to reality, I was asked to do an interview for the yearbook as well regarding my art. Although my journey has been difficult and extremely out of my comfort zone at times, I have nothing but incredible memories of the relationships established with these classmates who could probably be my grandchildren, but the thing that gives me so much hope for our University, as well as our country, was the night that college students pulled off the most amazing event. "Come Together" night of worship was such an incredible moment because as I stood there in the Pavilion and felt that calling to me and started walking down those steps past thousands of people praising and worshiping I felt a completion that I had been searching for years. I dedicated my life to Jesus that night, and to have it happen in the place that had brought me so many smiles and happy memories through the years, during my life as a student accomplishing dreams that I never believed to come true, was truly an Ole Miss Journey.
Kaitlin Elyse Collins
Major: Psychology
My favorite part of studying at the University of Mississippi has solely consisted on the wonderful people I've met along the way. It's bittersweet to be ending my studies at the university, but as they say, "one never truly graduates from Ole Miss."
Shaylin Williams
Major: General Engineering
My favorite memory at Ole Miss is serving as a team leader for the Luckyday Success Program.
Sarah Byrd
Major: Biology/ Pre-Med
Hometown: Brandon, Mississippi
My favorite memory was taking a summer class through StudyUSA with Dr.H in AZ! I met some amazing people and found a love for birds!
Jessica Pelski
Major: Elementary Education
Hometown: Orlando, Florida
There have been so many favorite moments throughout my four years at Ole Miss, but one of my favorite memories was when my parents and my boyfriend's parents came to visit us during our senior year. We started off the weekend with dinner and a night out on the square, along with chicken on a stick!!! On Saturday, we spent all day tailgating in The Grove with music, decorations, family, friends, and Taylor Grocery catering. It was my first time having my own tent in The Grove, which was definitely an experience!! We eventually made our way into the stadium and cheered on the Rebels. Our weekend ended with a delicious, homemade brunch at my house with everyone. I will never forget this fun time that made my Ole Miss experience even better. I am going to miss this place so much!!
Jacob Arbuckle
Major: Computer Science
Hometown: Oxford, Mississippi
My favorite moment was taking the 3D-Printing class offered by the computer science department.
Jasmine Sanders
Major: Social Work
Hometown: Horn Lake
My favorite moment from Ole miss is when I enrolled in the social work program. I always had a passion for helping others. When I was 14 years old my doctor told me, I had Hip Dysplasia. I had two major surgeries and I had an excellent support system that consisted of my family, doctors, and nurses. When I chose Ole Miss as the college I wanted to attend, I knew I wanted to give that support and love back that I received when I had my surgeries and that inspired me to enroll in the social work program. I love the courses that Ole Miss offers in the social work program and the courses helped prepare me to see what is to come in the social work profession. Each professor I had left a positive influence in my life and pushed me to get out of my comfort zone and try new things. My college experience has been a roller coaster with balancing being a single mother and a full-time student. I remember a time where I had to withdraw due to financial and personal issues but throughout this journey I was determined to finish the race. I want to show my children to never give up on your dreams and no matter how many times life knocks you down, you get up and try again. My college experience taught me that being focused, consistent and confident is the key to being successful. I am so happy that I achieved my goal of finishing what I have started. I am not at the end of my journey but on to a new beginning. I know we are not having a physical graduation due to the COVID-19 outbreak and social distancing, I am still excited and looking forward to the virtual graduation Saturday. I would like to thank my family who have been supportive and to Ole Miss for giving me the opportunity to earn my bachelor's degree and set me on my career path as a social worker.
Kornicha Johnson
Major: Criminal Justice (Master of Science)
This picture represents the strength I graciously struggled to maintain while in my Master's program. It is accompanied with memories of only sleeping a few hours of the day, working full-time, and beginning the process of a thesis. Many nights were spent worrying about the end process and the opportunity of keeping the graduation date set. With great faith and my support system, I persevered. I was able to earn my Master's degree a semester early and became among the 2% of students in my program to pass the thesis exit. I was also able to finish my last semester in the program student teaching (my reflection of giving back to the place I had made my home for over 4 years). My time in the program afforded lessons that are simply priceless. The program ignited the motivation to pursue my career goals in law and equipped me with the tools to succeed any expectations.
Adam Jones
Major: Management Information Systems
My favorite Ole Miss journey would have to be the time I have spent with my fellow brothers and sisters in Christ. Despite the football, basketball, baseball games, the grove, the square, the long nights, the fraternity, (I absolutely loved those), my greatest time came with these people right here. I have enjoyed all of the Ole Miss traditions that the school has carried on throughout the years. Being a child of many generations that have attended the school, I always felt right at home. The love and southern traditions will hopefully never fade away at the University. The great education that I have received here comes as a great accomplishment. Ole Miss is not just going to hand you an education. I am thankful for all my teachers and the staff here at Ole Miss. Nevertheless, my greatest memories have been with my friends at the campus ministry here at the University of Mississippi. Being in an environment where you do not have to drink or go out to the square to have fun, these people showed me what it was like to do that without all those things. The main reason they were able to do that was because they were filled with the love, power, and the Holy Spirit of Jesus Christ. I have always been a Christian, but never understood what it was like to be in a relationship with Him, to live a life obediently to Him, and to give Him the glory in everything I do. It took me to the end of myself to realize that I really needed Him in my life. I would not change anything because of where I am today. There is no greater love from anyone else in this world you will experience until you experience the transforming power of Jesus. Jesus says in Matthew 16:26 that, "For what will it profit a man if he gains the whole world and forfeits his soul?" Jesus is the only one who saved my soul and can save your soul. There is no other name except the name Jesus that can do that. I never regret a day of following Him because I know and have faith that He is full of love, patience, gentleness, steadfastness, compassion, meekness, mildness, joy, peace, etc., compared to lies, fear, anxiety, manipulation, temptation, darkness, sin, etc. Ole Miss is where I learned that. There are many students who are desperate and looking for the truth. Some may think that they need to fall into sin to have fun (I was being told this lie), but the simple answer is that you don't. Jesus came to fulfill that empty hole in your life, save your soul, and give you hope. Something to strive and get out of bed for. I am not saying that when you follow Him, He will take away all of your problems. He says that we will have trials and tribulations in this world, but to take heart because He has overcome the world. It won't be easy, BUT it will be worth it. 1 Corinthians 10:13 says, "No temptation has overtaken you that is not common to man. God is faithful, and he will not let you be tempted beyond your ability, but with the tempation, he will also provide the way of escape, that you may be able to endure it." The true word of God has the power to transform lives, heal the sick, save the lost, open the eyes of the blind, restore one's soul, have new desires in life, and to give you something to live for. That is what He did for me, and that is what HE can do for you. The simple question is, "Are you going to receive Him by faith?" My prayer is that whoever may be reading this, that God may open your eyes through His spirit. That God would stir something up in your spirit. Something you may need to give the Almighty. I encourage you to take a step of faith, and to see what God can do. I want to lastly thank my family for everything they have done in my life. The continuous support and encouragement has truly been a blessing to me. I could not have done it without them. Love y'all. I also want to thank the friends that God has placed in my life. Love y'all. Remember, God loves you.
Lillie Byrd
Major: Integrated Marketing Communications
Many of the memories I have from Ole Miss were the best memories that I will cherish all my life. If I had to pick one moment throughout my college experience it would be living with 4 of my best friends. These ladies have been my rock and I wouldn't change them even a bit! I thank them for making me laugh, cry and everything in between. They will always have a place in my heart. Thanks for the very best memories at 1019 ladies. Hotty Toddy for life!
Bailey Griffin
Major: Political Science with minors in Legal Studies and History
Hometown: Chesterfield, Virginia
As I reflect on my past four years here at Ole Miss, I've made a lot of special memories: Ryan Olenek throwing me a ball in right field, countless concerts at the Lyric, visiting new states with my best friend, attending as many home games for sports as possible, being extras in a Brett Young music video with my good friend and sorority sister, watching my parents be on the jumbotron for Locking the Vaught with the mascot my freshman year, and many adventures in between. Out of all of them though, my favorite has been experiencing college side by side with my cousin, Maddie. When I was looking at colleges to apply to, I had no idea where to go. Growing up and being from Virginia, I always thought I was going to go to Virginia Tech or William and Mary. I never would have imagined going out of state because it was too far from home and I would get homesick. Before my senior year of high school started my dad and his brother suggested I come to Ole Miss for the weekend to tour it and to come for a football game weekend. My dad had been to Oxford already and he kept telling me I needed to go just to experience it. At the time, my cousin Margaret was on The Rebelettes but before that, her brother and sister had already graduated from Ole Miss. Their youngest sibling, Maddie, is my age. Growing up, we would only see each other on an annual beach trip with both of our families. We would hardly ever get to see them because they lived so far away. Now because of Ole Miss, we see each other all the time and live five minutes from each other. If I had not decided to take a chance and go to school thirteen hours from home, we would not have become the best friends we are today. Throughout these four years, we have shared our highs and lows together and been with each other through it all. Thankfully we have each other for two more years together here as I get my Masters and she is in Pharmacy School! Also, Ole Miss has allowed me to share the bond of being a part of the Ole Miss Family with her brother Cory and her sisters Mary Paige and Margaret too. Hotty Toddy!
Neil Rhodes
Major: University Studies via General Studies
Hometown: Bay St. Louis, Mississippi
I retired from the Army in 2013, worked, and decided to go back to school in 2016. I probably graduated from high school before some of my fellow graduates parents did. I have walked around campus a lot the last few years. And one thing that has stuck with me through all of this. It is never too late. My favorite times at Ole Miss have been tailgating with my parents at all the home games I have attended since I retired. Here is a pic of me took at the Walk of Champions. Thank you for giving me the opportunity to reach this goal and am already planning to get my masters.
Paige Appelhans
Major: Elementary Education
My favorite Ole Miss memory is more a collection of many. It was looking forward to going to class, bonding with other students, and growing into a professional. Attending the Grenada campus meant becoming quite close with my classmates. The collaboration and energy in our class for two years was remarkable. So much has changed for me in the past five years, all of which I couldn't have accomplished without my Quack Quack (I love you!), and the support for the last two years from the class, professors, and school. My Ole Miss experience was challenging and fulfilling; preparing me for what lies ahead. I will be forever grateful for my time at Ole Miss Grenada, and am ready for the next journey: Ole Miss Grad School! Hotty Toddy!
Ethan Reichle
Major: Exercise Science
Hometown: Greenwood, Mississippi
My journey at Ole Miss is one that has truly been life changing. Coming in to college, I felt like God was calling me to Oxford, but was not sure why and actually resented being in college. I started out living my cousin who was in law school at the time. Living with him was a life-transforming experience, because I learned how to be selfless as he was a quadriplegic and I ended up being one of his caretakers for the majority of my college career. This lesson in serving others has been instrumental in how I have learned to perceive the world. I began to look at people differently, understanding that people are more than they may seem on the outside. I began to step out of my shell. I traveled with the Ole Miss Wesley Foundation to Haiti and lead worship on Thursday nights, lead youth in small group, lead Adventure trips, picked up boxing, and have had friendships that I know will last a lifetime. This journey is one that I will be thankful for as it just the beginning of what is to come!
Roshandra Riddle
Major: Law Studies with minors in History and Political Science
Being able to finish what I started 18 years ago is my favorite moment here at the university. Being able to share this moment with my two beautiful daughters means the world the world to me. All the long days(driving an hour to and from work), late nights, tears shed were all worth it!!!!! DELAYED BUT NOT DENIED!!!!
Abby Pitts
Major: Pharmaceutical Sciences with a minor in Biology and Chemistry
Hometown: Booneville, MS
Looking back on the past three years that I have spent at Ole Miss, I could not imagine a day without the Pi Beta Phi or the school of pharmacy. Narrowing down my favorite memory from all of the amazing times that I have had at Ole Miss is an impossible task because every memory has shaped me into the person I am today. Walking onto campus in 2017, I was a shy 18-year-old who had yet to find herself and had no clue what God had planned. Within my first semester here, I found a home on Rebel Drive at Pi Beta Phi. Running home on bid day was just the beginning of the best three years of my life. The girls that I have met throughout the past three years in Pi Phi have truly become my sisters. From sisterhood events, philanthropy events, and socials, I have made some of the most amazing memories with people I will never forget. I am so thankful for all that MS Beta has given me throughout my time at Ole Miss, especially my close group of friends who have been there for me through my highs and lows. My college experience would have been completely different if it weren't for the people I met through the school of pharmacy. Without the amazing advisors, faculty, and staff at the school of pharmacy, I would have been completely lost in my schooling. Before beginning my first professional year of pharmacy school, I felt as though I was still searching for who I was. Within the first month, I soon realized that finding myself would come from finding a group of people who would always be there for me. I was lucky enough to find those people. I am so thankful that I am surrounded by a group of individuals who have become my "phamily." While at Ole Miss, I was not only able to find myself, but also my passion.
Dr. Parson's biology of sharks and their relatives class allowed me to find a cause that I truly believe in and has pushed me to make a difference in shark conservation. Without this class and his passion for this field of study, I do not believe I would have been able to truly find myself. Ole Miss, you have given me the best three years of my life, and I finally understand the meaning behind "One never graduated from Ole Miss." Thank you Ole Miss and here's to three more years full of amazing memories with you!!
Joshua Newman
Major: Exercise Science
Hometown: Water Valley, Mississippi
One of my favorite Ole Miss moments is my first football game as a student. Coming to college much older than my peers was a challenge and it was well noticed. After spending 3 hours in the heat of the grove I was annoyed and ready to leave haha. The place was packed but had a lot to see and do. Give me the same tight space feelings like the ships from my past. As the clock began to tick closer to kickoff , it was finally time to move out of this crazy place. As I walked in a sea of rebel fans, the excitement started to build and I thought back to my first Ole Miss game as a high school kid. Seeing all those shouting students with faces painted and ready for war was overwhelming and I was about to become one of those students. Its hard not to get excited in such an environment and by the time kickoff happened it was official, this was uncharted territory but so much fun. I am so grateful for my military service but I am also equally as grateful to come back to school at the age 26 and purse my dreams to become a strength coach. Hotty Toddy.
Amanda Hirschfeld
Major: Integrated Marketing Communications with a specialization in Public Relations and double minor in Digital Media Studies and Business Administration
Hometown: San Angelo, Texas
Ole Miss truly became my second home. Despite being 14 hours away from home, everyone here immediately welcomed me and made me feel like I belonged there. Ole Miss and the people here have shaped me into the person I am today. Thanks to my teachers, friends, and my family, I am not only completing my Bachelor of Science in Integrated Marketing Communications, but pursing a master's degree. Ole Miss will forever hold a special place in my heart, and no matter where I am, Oxford will always be the spot that ever calls.
Asmaa Taha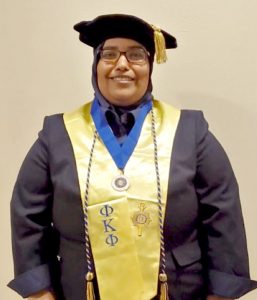 Major: Second Language Studies (Ph.D.)
Hometown: Cairo, Egypt
I have many great memories at Ole Miss during my academic journey for my master's and doctorate degrees. My favorite moment at Ole Miss was when I was inducted into the Honor Society of Phi Kappa Phi. This memory represents the culmination of many years of late nights with long hours studying at Starbucks. With the help of my professors, family, and friends, I have been able to accomplish this achievement. I am blessed with wonderful people around me who gave me tremendous support to keep going and move forward. If I learned anything during this journey, it is to be humble, honest, and confident about myself. A dedicated hard working person will definitely reap the fruits of success. The sky's the limit!
LaReine Schock
Major: Food and Nutrition Services with an emphasis in sports nutrition
This photo with the 2019 Ole Miss volleyball team is incredibly important to me because the journey I underwent to become their Sports Nutrition graduate assistant. I began my first semester at Ole Miss taking half undergraduate and half Master's courses to make up for some prerequisites as I came in with an Exercise Science rather than nutrition degree. My dream for the last five years has been to become a sports dietitian, so I volunteered to work for the Sports Nutrition department, where I worked for my own classmates who had obtained a GA position I had applied and been rejected for. In the fall of 2020, I had been asked to come on as a full-time Sports Nutrition GA by the department's Chair, Dr. Melinda Valliant. The same people I had previously worked for were now my coworkers, and the volleyball team was my first team. I LOVE volleyball, so I spent the season doing the best I could for them, and dedicating time to get to know each of the girls personally. They are truly some of the most wonderful humans I have ever met, and I love seeing them continue to grow and be successful. This picture was taken with the team after the seniors had their last home game. My journey at Ole Miss started out less than ideal, but with some humble perseverance, I was able to turn into an incredible 3 years. I am so proud to call myself an Ole Miss Rebel.
Madison Passmore
Major: Communication Sciences and Disorders
A side-by-side of my bachelor's graduation cap and my master's. I am graduating with my MS in CSD after completing my Bachelor's of CSD, both at Ole Miss.
Ashley Muller
Major: Journalism with an emphasis in broadcasting
My favorite UM moments were behind the anchor desk while working for NewsWatch Ole Miss. Naming a single favorite memory from my 2 years with this organization isn't possible. The people I've had the pleasure to meet and grow closer to at NewsWatch have truly made my college experience one to remember. Whether it be long days in the studio, hunting for flooded homes around Lafayette County, rushing from exams to make it to Bishop Hall before showtime, and surprise Monster energy drinks from Brian, the experiences I've gained here are priceless. The nerves from when I began anchoring may be gone, but the values I've gained here will last forever.
Madison E. Daniels
Major: Hospitality Management with an emphasis in Event Management and a minor in Business
Trying to choose a single favorite memory from my time at Ole Miss was incredibly difficult. There was so many to choose from, bid day my freshmen year, my involvement with Reformed University Fellowship, game days in the Grove, leadership opportunities in my sorority, being selected as Co-Director of Homecoming with SAA, late night drives with friends around campus, being inducted into Phi Kappa Phi, all of these and more are precious memories I hold dear. I would have to say one of my favorite experiences was being involved with SAA and seeing the joy our events brought the students at Ole Miss. Another one of my favorite experiences was the community I found in RUF and in my sorority. Thank you for the best four years Ole Miss and Hotty Toddy!
Mariah Leigh Cole
Major: Doctor of Pharmacy
During my time at Ole Miss, I have gained so many memories and experiences that will carry me for a lifetime. However, community engagement was always my favorite activity! I loved participating in community service events especially Big Event! As I progressed in Pharmacy School, I noticed the impact of my volunteer efforts. I thoroughly enjoyed helping patients know their number (blood pressure, blood sugar, etc.) so they could make the best decisions for their health. I look forward to continuing my student efforts as a Pharmacist.
Adrianna Bradley
Major: Psychology with a minor in Legal Studies
In the 4 years of being at Ole Miss I found who I was a person and who I want to become in the future. I was able to make friends that I will remember forever and I had some excellent professors that's help on the journey of figuring out the next step and I thank them! With the help of friends and family I will be graduating with a B.A. in Psychology. One of the good things was joining BSU which really helped me with involvement on campus and branching outside of my comfort zone. Hotty Toddy.
Alexa Colvin
Major: Master's of Science in Communication Sciences and Disorders
My favorite memory from Ole Miss was being a part of the HILL Program. The graduate students were able to take our clients to the Ole Miss football training facility and let them run around the field and meet the football team!
James Yarborough
Major: Finance with minor in Spanish
Here is my picture from the previous Ole Miss vs LSU game which my parents came up for! This picture is special to me because my family came up from my hometown in Durham North Carolina and my mom graduated banking finance school for her grad school at LSU. Although the rebels lost the game they scored the most points any team had put up on LSU before they won the championship which was pretty cool. It was one of my last games to tailgate in the grove and it was one of the biggest games in my 4 years at Ole Miss.
Chloe Price
Major: Allied Health Studies
My favorite moment at Ole Miss was Rebel Run my freshman year because it solidified that was attending the college I had dreamed of since I was a little kid. It was also special because my friends and family were there to cheer me on. I'm so thankful to be receiving a degree from Ole Miss, and I can't wait to begin the Accelerated BSN program in Oxford in the fall. Hotty Toddy!
Sheree Bland
Major: Elementary Education
This was a great moment for me! My children celebrated with me as I was inducted into the Gamma Beta Phi honors society. It took me a long time to get to this moment. I graduated high school in 2000 and 20 years later, I'm graduating from the University of Mississippi with a Bachelor's in Elementary Education. Wow! Always remember, anything is possible if you believe in yourself! Thanks to all my family and friends who have supported me, especially my husband and my children! I love all of you.
Iuliia Rychkova
Major: M.A. in Applied Linguistics and TESOL
Hometown: Novokuznetsk, Russia
Before becoming an Ole Miss graduate student, I came to the University of Mississippi as a Fulbright scholar to teach my native language, Russian. Honestly, it was one of the most challenging yet exciting experiences in my life as I had never taught Russian before or thought about the difficulties of the Russian grammar. I also felt that my mission was to bring some actual, real-life language to the classroom, so I created a pen pal project together with a colleague from St. Petersburg for my Russian 211 students. Honestly, the day I handed those letters from Russian pen pals to my Ole Miss students was the most memorable one. Apparently, those Russian seven-graders were so excited to write to their American pan pals, that they also put postcards, coins, candies, drawings, and other souvenirs in the envelopes. And so did my students. It was fantastic to see the Ole Miss students' keen interest and zeal for writing letters in response.
Ramona Zamarripa
Major: Secondary English Education
Hometown: Pontotoc
My favorite memory from my years here at Ole Miss was the Christmas party that we had with Dr. Rosemary Olpihant Ingham. The reason why it is my favorite is because it made me realize that I had a whole family standing beside me. I can remember all the laughs we shared and how much better I felt by knowing that my classmates are my family. This will always be my greatest memory! (That is me in the Christmas tree hat!)
Peyton William Byars Dixon
Major: Masters in Food and Nutrition Services
It would be easy to say turning in my thesis would be my favorite memory, but it truly is hard to narrow my experience down to any singular moment and say that it was my favorite. I've had the opportunity to push myself and enjoy the following rewards of that labor. Whether it is learning in a lecture hall, counseling clients at the Nutrition clinic, teaching new undergrads or meeting friends from other parts of the world. I can say this was a time of my life I won't soon forget. I'd like to thank my family, friends, advisors, and God for helping me get to this point, I know they will help me in the future as well. Hotty Toddy.