Email us a photo of your favorite Ole Miss moment and why it was special to you.
Please include your name, major and school/college.
We'll collect your photos and include them on the Journey to Commencement website.
Premalatha Balachandran, Ph.D.
Major: Master of Business Administration
With the educational background of master's degree and a Ph.D. in the field of medical biochemistry and expertise in Cancer Biology/drug discovery for almost 2 decades, Business administration was very new to me. The reason I enrolled in our MBA program is to gain enterprise knowledge about the latest trends in the corporate world, to broaden my leadership skills, and to develop a strong foundation in business management skills/strategies.
My husband Karthik Ken, who is also an MBA graduate, showered constant support encouraged me all along. Because of his support and my two children Keerthin and Sagan's understanding about the value of education, I was able to complete prerequisites with an A grade but also was able to maintain A grade in each course all through my MBA program. I would like to acknowledge the encouragement, guidance and support from all my professors and also our program advisor Ms. Ashely McGee.
I always get inspired from our staff who earn several degrees from Ole Miss while some working two full time jobs and managing a family and now I feel proud to be one of the staff receiving MBA from Ole Miss. Many thanks to my family and friends for being a part of my incredible journey and providing immense support and encouragement.
---
Kerry J. Yancy, M.D.
Major: Master of Criminal Justice
August 22, 2020, was a "First Day of School" I never would have imagined. At 57, I began my 19-month path toward earning a Master of Criminal Justice in Homeland Security and Emergency Management degree. The knowledge I gained will directly benefit the children of Mississippi in my role as a pediatric emergency medicine faculty physician at UMMC. I wish to thank Abigail Novak, Ph.D. for guiding me through my independent study course in human trafficking. I am particularly grateful to Barbara Russo, Ph.D. As as emergency service professional, she "speaks my language" and provided encouragement and an understanding of me as an older student with a medical mindset.
I hope that my success as an older student will encourage others: Take advantage of opportunities. Be brave. Know that it is possible to write good papers over thirty years after setting down a pen. Education is one thing no one can take away. Aways keep learning. What is next for me? I have re-enrolled as an Ole Miss undergrad in order to take online Spanish classes. Another degree is on my horizon.
---
Zuri Dixon Omere
Major: Allied Health Studies
I chose the selected photo because it embodies all of the joy, love, and support that I have felt as a student of the University of Mississippi. It reminds me of the quote by Frank E. Everett, Jr., "The University is respected, but Ole Miss is loved. The University gives a diploma and regretfully terminates tenure, but one never graduates from Ole Miss." As I graduate from the University and step into the world of my next endeavor, Ole Miss will always have my heart and be a place that I call home. This home has given me many friends, family, and memories that I will cherish for a lifetime.
---
Nicholas Bottesini
Major: Master of Arts in Teaching
School of Education(Mississippi Teacher Corps)
When my wife and I moved from Wiesbaden, Germany where I was working with American military teens to Oxford, MS, we knew the mission we were joining would be hard. From having our son here, to teaching in my high need school with MTC, to studying, I now feel an exhausted satisfaction of having completed a marathon of hard work.
Moving forward I will be working with military teens in Guantanamo Bay, Cuba.I carry with me wonderful memories from performing as part of the Sarafest "Bored of Education" band, great celebrations at The Growler, rock climbing at the SCRC, and hiking with my wife and son on the SCRec trail.
Thanks to my cohort colleagues, professors, and especially my family! I could not have achieved this alone.
---
Maya Clay
Major: Allied Health Studies
As I take small steps in this photo, I am grateful for the giant steps that James Meredith took for me to be able to live in this moment. Ole Miss is a very special place to me and always will be. The sense of family and community that is here is so welcoming to everyone. The people here are so great and full of resources that can help you in every way of life. I found a family and life long friends that I will forever cherish. I am excited to be in Oxford one more year for nursing school. Congratulations classmates, and Good luck in your future endeavors.

Always a rebel ! Hotty Toddy !
---
Lori Wilson
Major: General Business
My favorite memory here at ole miss is when I became Greek. Becoming an Alpha woman was one of the best decisions I ever made. My probate was one of the best days hands down.
---
Elizabeth Swindell
Major: Nutrition and Dietetics
My time at Ole Miss has been so special! As an out of state student who knew no one going into college, I am so thankful for all the welcoming faces that I now consider my close friends, mentors, advisors, professors, and coworkers. I'm sad to leave but am grateful to have had a collegiate experience that makes it so hard to say goodbye.
---
Ellie Fitts
Major: Psychology
Ole Miss has been critical to me in discovering my truest, most authentic self. I've learned that it's okay to not be okay, and it's okay to make mistakes. Through this school, I've been able to channel my desire to help others be open and real about mental health struggles. My goal while being here has been to be as genuine as I can, and I am proud to say that I have achieved that, no matter what setbacks or struggles got in the way. The people here have shown me that my genuine self is welcome here, no matter what that looks like. My goal in life is to be a safe space for others to bring their genuine selves and to show them that it's okay to not be okay.
---
Ashley Smith
Major: MFA Studio Art with an emphasis in Sculpture
The college I am getting my degree from is the College of Liberal Arts. My favorite Ole Miss memory is from April 9, 2021. We had just got done running the iron melting furnace I built for the semester iron pour. I love the community that surrounds the iron pour and getting to work with so many people to make really cool art.
---
Makeda Watkins
Major: Education Leadership
My favorite Ole Miss moment was being able to take this photo in my Ole Miss regalia! With the support of my family, friends, professors, and cohort members, I completed what I set out to accomplish. Most importantly, this degree is special for me because I finished it for someone other than myself, my children. They never gave up on me and have been a constant lever of support greatly needed on this journey. I do not take a day for granted, as they kindly turned the table and made sure I did my homework. I pray this accomplishment confirms that they, too, can achieve what they are willing to perform. Thanks to key people in my corner, I am well versed and excited about all that is to come and grateful I get to graduate with my sanity, health, and relationship intact.
---
Connor Riley
Major: Electrical Engineering
My favorite memory of Ole Miss as to be the times spent in the Grove and at the Vaught. As a transfer student you have never really seen an SEC football game until you have come to the sip. The memories and time spent with my friends and family during these experiences will be something I will never forget about Ole Miss. The instance above shoes when we broke the record for most sunglasses worn by a group of people at night. Go Rebs and Hotty Toddy!!
---
Daija Jones
Major: Law Studies
My name is Daija Jones. I am a senior majoring in Law Studies here at the University of Mississippi.
My experience here at OleMiss was quite different from other students, as it should be. Moving four hours away from home without family or friends, I knew this journey would be lonely. Throughout my entire four years here at OleMiss I learned so much, but one of the most important things that I learned is the strength of a mother's love. This photo of my mom and I was taken in front of Burns Hall. She drove four hours to drop me off at school and drove four hours back home. Whenever I told her about my dreams and aspirations she would never doubt me; she would never tell me to reconsider, but would guide me. Whenever I failed, cried, or wanted to give up she was always there for support and encouragement. This photo demonstrates that a mother's love is the purest love you'll ever know. My success in school was because of my determination, but mostly because of my mom. All that I am, and whoever I will become, it's because you loved me mom! Thank you Mama!
---
MyKayla Williamson
Major: Anthropology
Ole Miss has curated a lot of fond memories for me. When taking my graduation photographs, I was able to walk the campus and have a memory of every location. I remember being an eager Freshman in 2018 waiting for the Union to officially open. Taking photos in front of the Union felt very full circle.
---
Adrianna Bradley
Major: Master's of Social Work
My favorite moments at Ole Miss would have to be me experiencing new things and people. Throughout my time here I can say I grew into the person I am today. Confident and Driven that's one thing I can truly be thankful for!
---
Makayla Steede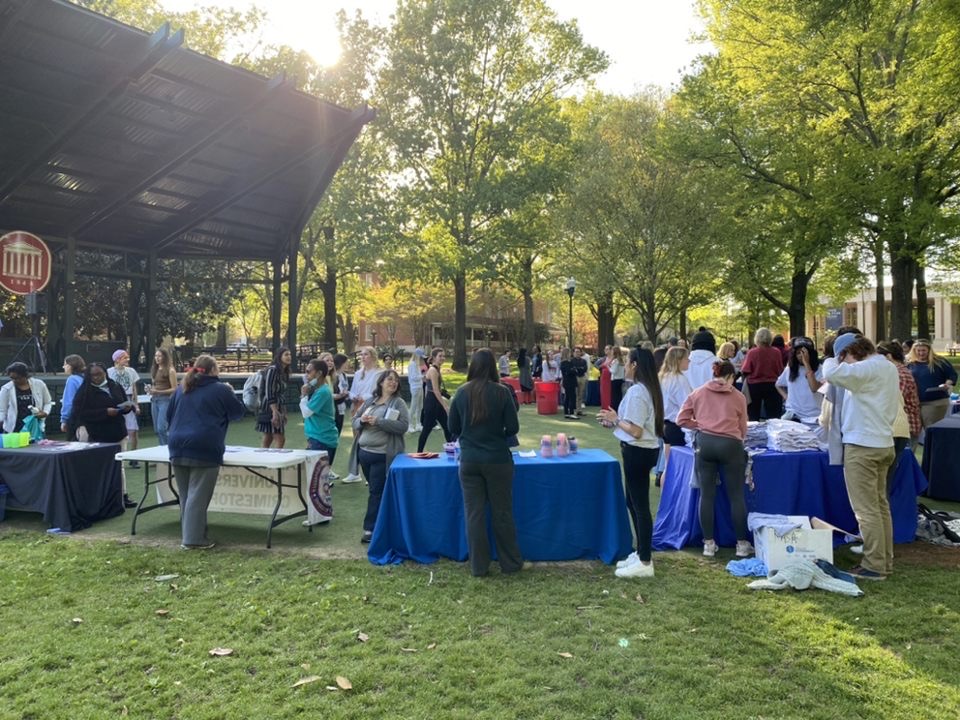 Major: English and Journalism
My favorite moment was when members of our campus and community gathered in the Grove to show support for survivors of sexual, domestic, and gender-based violence. In my last four years as member then President of Rallying Against Sexual Assault, I have seen how many people on our campus are affected by these issues, and I know how challenging it can be to continue on when dealing with these issues. I am very grateful that many members of our campus and community came out to support survivors and march for a change. Showing survivors that we see them, stand with them, and support them can be vital to their healing.
---
Jay Lee
Major: Social Work
My favorite memory has been the surreal moment of taking my graduation pictures. The moment put everything into perspective considering the complex last 2 years. It made it all worth it. The long papers, the group assignments, parking (haha), the 8AMs, the 11:59's. It was all worth it and I'm so happy to have completed this journey.
Alyssa Whitehead
Major: Psychology
My experience at Ole Miss wasn't complete until I joined the orientation team. Every training session, retreat, and orientation session was so intentional, and the skills and strengths I gained through my experience on the team still astound me. The team also taught me what an Ole Miss family really feels like, and I am forever grateful for the system of love and support I will carry with me throughout my life. That's what Ole Miss is to me, and I'm so thankful orientation has given me that.
---
Eliana Carter
Major: Biochemistry
This is the moment that I decided that I wanted to go to Ole Miss. I had been invited to APEX before my senior year in high school. I had not considered going to Ole Miss but decided to get out of my comfort zone and go to Apex. The people were so welcoming and nice. The night this picture was taken, my group became very close over a scavenger hunt. Exploring the campus with new friends just felt right and I felt at home. After APEX, I decided to enroll at Ole Miss and I owe it to these amazing people for showing me that the University of Mississippi may be a school but Ole Miss is a family.
---
Brianna Berry
Major: Biology
After fours years on the Ole Miss Cheerleading team, this picture right here captures everything we ever dreamed of. We spent countless hours preparing, training, and striving for this exact moment. And, to have that dream come true in our final year on the team makes me emotional. I could not have asked for a better experience or better teammates to share this 2022 National Championship with.
---
MacKenzie Ross
Major: Journalism
Coming back to Ole Miss for grad school was hard because I knew that all of the sweetest people I met in undergrad we're going to be here with me. They've been so supportive through everything and I'm so thankful they've had excuses to come back to visit! I'm excited to graduate knowing this place has such a special place in our hearts and we had the chance for all of our paths to cross!
---
Tia Jackson
Major: Journalism and New Media
As music director and disc jockey at Rebel Radio 92.1FM, I played the hottest hits and shared some of the coolest stories on my show, Jammin' with Tia J. From trending topics in pop culture to political talks and voting rights, I covered it all during my two years at the University of Mississippi.
---
Carson Morris
Major: College of Business
I was privileged to work for the Ole Miss video staff for two years… and bringing home the Egg after a great season is a great OM memory!
---
Justin Cucuzza
Major: Computer Science
My friends and I met at new student orientation in 2018. We are all computer science majors in the School of Engineering. The Computer Science department had us all take a photo together. Four years later, we recreated the same photo as we all stayed friends and are graduating together!
---
Sarah Martin
Major: School of Applied Sciences, Exercise Science
This photo is special to me because I had the privilege to work with this group and the Ole Miss football team for my last two years of undergrad. This photo was from our last home game in the Vaught as student athletic trainers, and we had just joined the team for our last walk of champions on senior night. This group meant a lot to me as we got to experience both the Outback Bowl and Sugar Bowl together.
---
Tia Jackson
Major: Journalism and New Media
During my first week of graduate school, I hit the ground running, producing an array of creative content. Two years later, I've reached my goals and recently accepted a job as a reporter for a local television station.
---
Katie Settlemires
Major: Elementary Education
This moment was special to me because it was our last class of the fall semester during our senior year. We were all so used to seeing each other almost every day of the week with student teaching and having class three nights a week. We grew extremely close like a family, and, of course, our teacher, Dr. Lane Gauthier, seemed like family to us as well. Covid threw us all through the ringer many different times, but now we are here and done. We made it through together, and I firmly believe had we not grown so close that many of us wouldn't have survived the tough times.
---
Ashley Lewis
Major: Elementary Education
My journey at UM has been nothing but wonderful memories. My favorite memory though, can't be anything other than the relationships and times I have shared with the ones who have took the journey with me. My family, my friends I have made, my coworkers, my students, and my church family. There are endless amounts of people who have believed in me when I didn't believe in myself. When I said to myself, "I can't do this" they were there to say "yes, you can". When I cried from the stress and worry of working, family, and school life, they listened, cheered me up, calmed me down, and helped me through it. When I needed to study and it was so loud I couldn't study, they stayed up with me till 2 am to ensure my studying was getting done and held note cards for me. The PEOPLE, in my life did this for me. I didn't, they did. So now, it's my duty to give all of that back in the classroom. To ensure that when those children don't believe in themselves, I am there to let them know that I do. I am there to stay however long they need to ensure they know the material. I am there for them to know I care.
---
Destin McLemore
Major: Elementary Education
My favorite memory would be our Christmas Pajama Party we had for Dr. Gauthier's class. We have really bonded the past 2 years together and I will cherish every moment I have had at Ole Miss.
---