Doctoral graduate Cellas Hayes excels in STEM and aims to pay it forward.
One definition of "journey" is passage or progress from one stage to another. This definition certainly applies in the case of Cellas Hayes, whose journey has taken him from the small, rural Mississippi community of Ludlow to the charming college town of Oxford to the Bay Area of California.
Every challenge and triumph along the way for this first-generation college student has resulted in growth, determination and remarkable success, including a doctorate in pharmaceutical sciences with an emphasis in pharmacology from the University of Mississippi in December 2022.
Now a two-time alumnus of Ole Miss, Hayes is a postdoctoral scholar at Stanford University, advancing his training as a neuroscientist to understand the aging brain and preclinical Alzheimer's disease. To appreciate his journey more fully, it is helpful to understand the landscape in which he has pursued his education and his field of study.
"At one point, I was the only Black person in the department in my program and now, being a postdoctoral trainee, I'm the only Black postdoc in neurology and neurological science at one of the leading institutions in the world," Hayes said. "Even more so, there are less than five Black male postdocs out of 2,500 at Stanford, encompassing all disciplines, not just STEM."
Overcoming Obstacles
Hayes has had to work for his success and overcome tremendous challenges and disadvantages throughout the course of his academic career. Even when he decided to stay at Ole Miss for his graduate degree after earning a bachelor's degree in biology with a minor in classics in 2019, the decision was mired in doubts about his own abilities to excel somewhere that he did not have established relationships.
"Little did I know that my established relationships made my doctoral program much harder due to the preconceived expectations that everyone had around me," he said.
For those who know Hayes, it is hard not to develop expectations. Hayes himself would say that he is self-motivated, driven and altruistic. Friends and family would describe him as intellectual, goal-oriented and an extreme planner. All these traits also mean that those around him are willing to invest in him.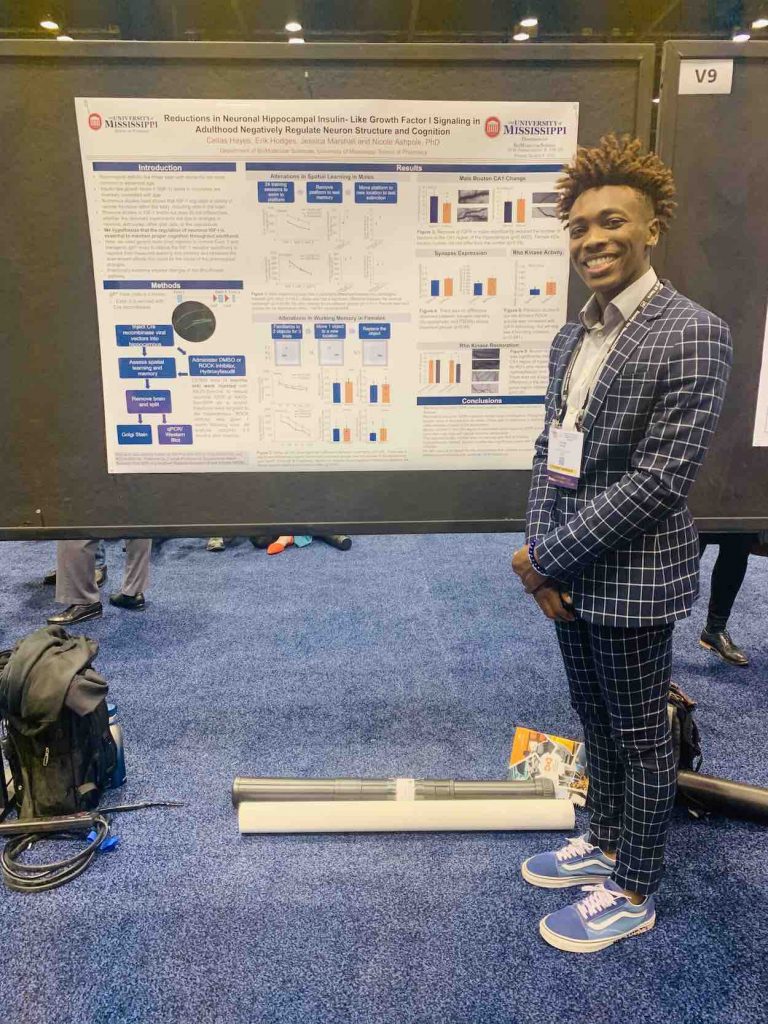 One of those "investors" was Noa Valcarcel, instructional assistant professor of pharmacology in the Department of BioMolecular Sciences. Stemming back to his K-12 background, Hayes did not have a strong foundation in academic writing. He admits that it was one of the biggest challenges he had to overcome as a doctoral student.
He praises Valcarcel as an "astonishing educator" who helped him for months with weekly meetings that were goal-oriented and focused on different metrics to strengthen his writing.
"When Cellas sets his mind on something, he's the type of person who won't give up until he gets it done, no matter how challenging it might be," Valcarcel said. "Working with him and witnessing his progress has been an incredibly rewarding experience."
The results speak for themselves: Hayes has garnered numerous accolades related to written applications, research proposals and personal statements, including the publication of three first-author manuscripts. And he was chosen for the Ruth L. Kirschstein National Research Service Award by the National Institutes of Health, an F31 fellowship and one of the highest honors a doctoral student can receive.
Hayes is just the third Ole Miss student to receive this type of fellowship, the first since 1987 and the first Black UM student to do so.
Mentors, Supporters and More
For all of his achievements, Hayes is quick to acknowledge how much of his success is due to those who inspired, supported and believed in him. The list from Ole Miss alone is a mile long, but perhaps the biggest professional influence has been Nicole Ashpole, associate professor of pharmacology and research associate professor in the Research Institute of Pharmaceutical Sciences.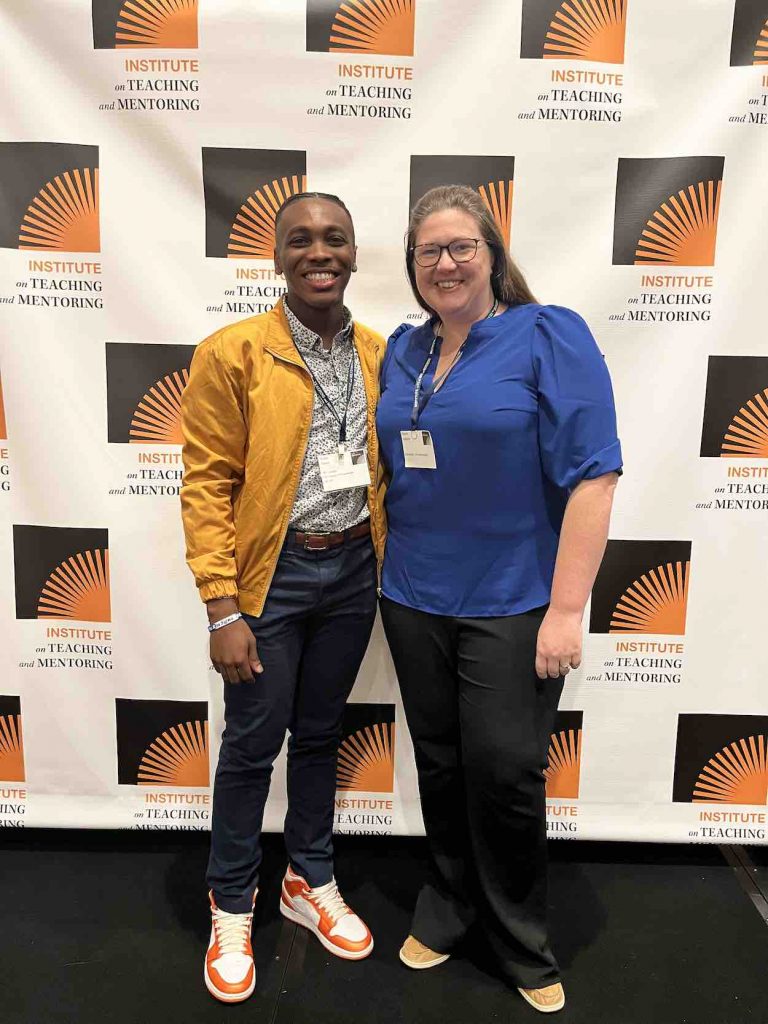 "I've come to realize that there are plenty of mentors in the world, but those that come to terms with where they are inadequate and where they overexcel are the best," Hayes said.
"Nicole gave me an opportunity when others would not, but the most important part is that she continuously gave me opportunities after countless errors simply because at a certain point, she saw something in me that I am only just now learning to see for myself."
The admiration and respect is mutual.
"Seven years ago, Cellas came to my office as a sophomore interested in science, unsure what his future would hold," Ashpole said. "That office visit changed his and my trajectories in ways neither of us could have anticipated at the time. He found a passion in research and took advantage of every scientific and professional development opportunity that came his way.
"Here we are seven years later, with Dr. Hayes ready to receive his doctoral hood on graduation day. What an extraordinary adventure it has been from first-generation undergraduate to first-generation Ph.D. I am proud of his hard work and am honored to be part of his journey."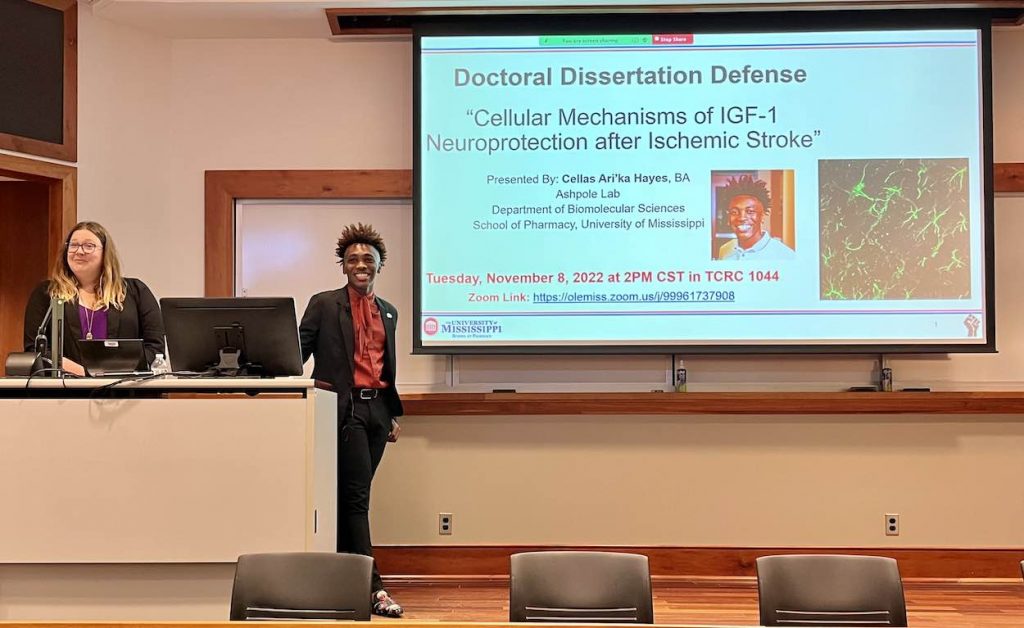 Hayes found that his graduate journey at Ole Miss was very different from his undergraduate experience. As an undergraduate, he was a self-described "overachiever" and extremely involved.
In contrast, graduate school taught him to nurture his time, foster his scientific creativity and invest in opportunities that had longevity, not only for the university but for himself.
"Ole Miss has shaped me to be a thinker and to always be aware of the larger image that is being painted, which is not directly of you but what you further offer scientifically and how you continue to uplift and make others better," he said. "Overall, Ole Miss has taught me to pay it forward."
For This Generation and the Next
For Hayes, family is his greatest motivator. As a grandson, his motivation manifests itself in his drive as a researcher to tackle health disparities in the Black community. He recalls seeing his great-grandmother prick her figure to measure her glucose levels.
As he has moved through more advanced coursework, Hayes has become attuned to his role as a scientist in bridging gaps in afflictions that are so prevalent in the Black community, including diabetes, hypertension and cardiovascular diseases.
As an uncle, Hayes' motivation manifests itself in his refusal to be limited by the circumstances of his upbringing. Hayes has long embraced his responsibility as a role model to his nephew, and it was a special day when his nephew attended Hayes' dissertation defense.
A full-circle moment followed when his nephew later shared his excitement with his principal that his Uncle Cellas was now a doctor. That principal was Hayes' ninth grade English teacher.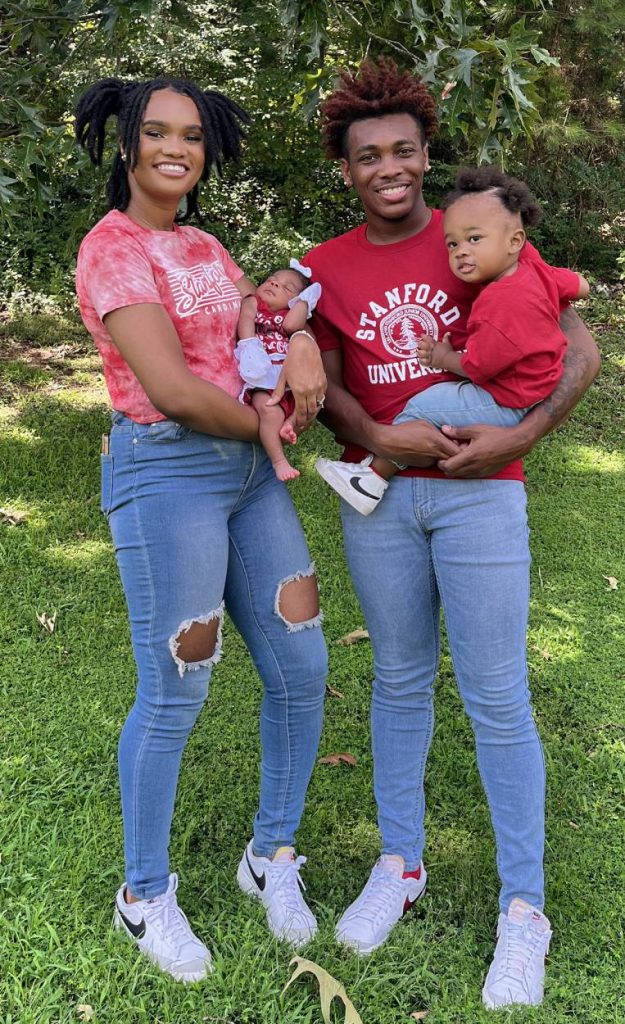 Now, as a husband and father, Hayes' motivation manifests itself in the legacy he has built. Hayes and his wife, Mweyeria Offord, also an Ole Miss alumna who graduated with a bachelor's degree in English in December 2020, have two children. Hayes and Offord are proud of the life they are building for their daughter, Cairo, and son, Caspian.
"I like to say I've built generational wealth through education so that I'm now able to provide a certain type of mental, emotional and financial support that isn't common for black families, especially having two parents with degrees from the best university in Mississippi," he said. "With each accolade that I get, I believe it serves as a reminder that something phenomenal has come from struggle and success over the years."
The Path Ahead
For Hayes, paying it forward includes his long-term goals of focusing on minority health research and creating equitable educational opportunities for minority communities. His motivation is driven by his grandmother's battle with Alzheimer's and his family's long history with cardiovascular disease.
"My biggest aspiration to create a research pipeline that investigates the intersectionality between cardiovascular disease, cerebrovascular pathology and neurodegenerative disorders like Alzheimer's disease and Parkinson's disease," he said.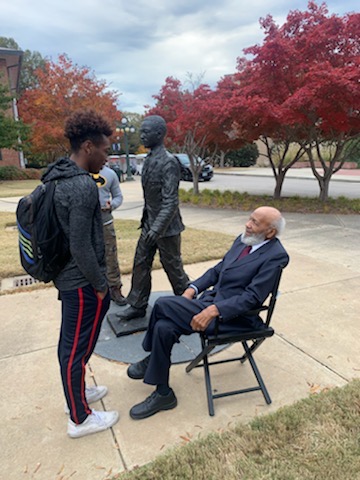 "I hope to provide substantial contributions to the scientific and public community that can help create a bridge in making health equitable and discovering the gaps in the literature of how these different diseases interact to create faster and worse outcomes in underrepresented minorities."
As Hayes gets set to participate in the doctoral hooding ceremony on May 11, he will serve as one of the Graduate School's two doctoral class marshals for 2023. An honorary position conferred on exemplary students, class marshals lead their peers in procession.
Being chosen to lead fellow doctoral candidates is a fitting honor to conclude this segment of his Ole Miss journey.
"For me, Ole Miss was home," Hayes said. "It was a place where I thought that I could survive, but over the three and half years of graduate school, it created a space for me to not only survive, but to live, and created this legacy that's to be remembered.
"As a double alumnus from UM, I am now a representative characteristic of the offspring that UM produces. From here on out, my degrees, credentials and accomplishments will forever be representative of an institution that provided substantial opportunities for a first-generation college student."
By Lisa Stone, University Marketing & Communications
A Note of Thanks from Cellas Hayes
During the interviews for this story, Hayes was asked about any specific people or programs who supported and/or inspired him during his time at Ole Miss. He asked that we please include all the people listed below from the university community who have assisted him on this journey.
Luckyday program (Senora Miller Logan, Patrick Perry, EJ Edney and Ethel Scurlock)
Department of Classics (Hilary Becker, Aileen Ajootian and Molly Pasco-Pranger)
Department of BioMolecular Sciences (Nicole Ashpole, Jamie Stewart, Noa Valcarcel and Kristie Willett)
Department of Biology (Beckie Symula and Jason Hoeksema)
Ryan Upshaw (former UM staff member)
Brian Foster (former UM faculty)
Department of History (Mohammed Bashir Salau)
Additional program: Being a charter member and founder of the Minority Association of Premedical Students at UM