Harrison McKinnis found fun, friends, faculty mentors and his future at Ole Miss
Anyone who has met Harrison McKinnis would be quick to share a handful of distinct traits the Madison native naturally exudes:
He's nice.
He's funny.
He's insanely smart.
He's interested in everything.
And he's going to do amazing things.
As Harrison grew up and graduated from high school, those five things never changed. Now he is graduating from the University of Mississippi with a degree in chemical engineering, and those five things still apply to him.
Among his top achievements, he's a member of the Sally McDonnell Barksdale Honors College, the Haley Barbour Center for Manufacturing Excellence and a recipient of the Stamps Foundation Scholarship, the university's most prestigious scholarship awarded to entering freshmen. So he's an academic, right?
Not so fast! Harrison serves in leadership roles with RebelTHON, the Interfraternity Council and the Columns Society while also serving as an orientation leader and Ole Miss Ambassador. And he was one of just 10 students inducted into this year's Ole Miss Hall of Fame. So he's a leader, right?
Definitely, but Harrison will be the first to tell you that he was eager to take advantage of every opportunity Ole Miss offered and that he was very intentional about seeking out experiences.
"I have a willingness to pursue a lot of passions that are unrelated," Harrison said. "Engineering, economics, rap music, sports, dancing and more – sure, they may be unrelated, but I never felt like I had to sacrifice any one of them. I felt like I could be well-rounded in a lot of different areas, and my approach to college was largely the same way."
Being a Stamps Scholar at UM has had one of the biggest impacts on Harrison. He's grateful for the opportunity and loved the experience. In particular, he shares that Stamps really helped provide a great transition from high school to college through the "bonding excursion" trip to Ecuador for the 2017 Stamps cohort that took place before his freshman year.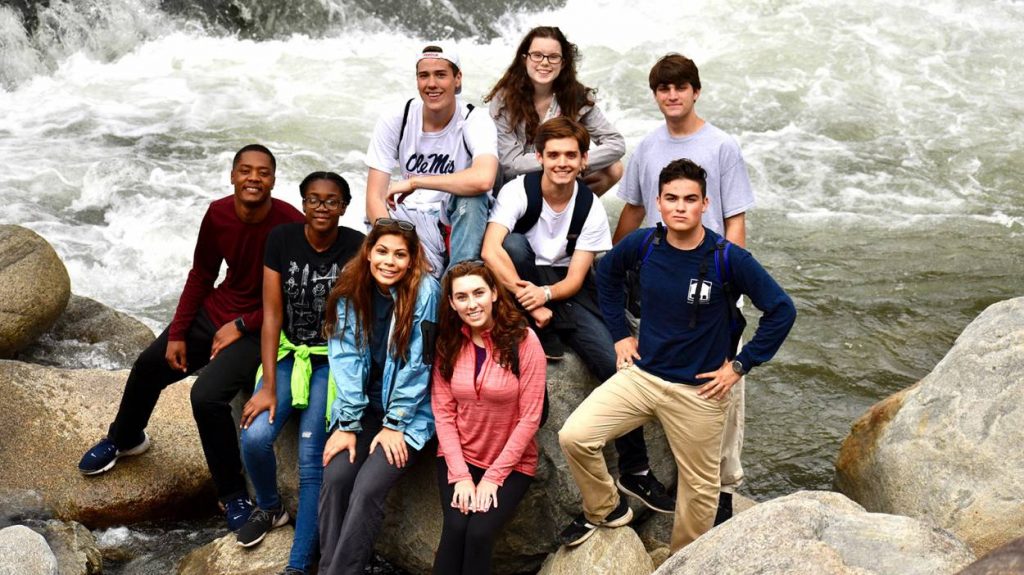 "I will always associate my Ole Miss experience with this particular trip," Harrison said. "I had never left the country before and here I was headed to Ecuador to travel with people I had never even met.
"I ended up making some of my closest friends, and in hindsight, I think about what a surreal experience that was and how it has changed the trajectory of my life in so many ways."
Harrison's parents, Patrick and Danelle McKinnis, met as undergraduate students at the University of Southern Mississippi, where Danelle was in the student hall of fame. Without strong ties to Ole Miss or Oxford, Harrison describes himself as a first-generation Ole Miss fan.
"It's been fun to go somewhere that I knew about but didn't really fully understand the experience," he said. "I love 'Lock the Vaught' – it just hits different, every time. It was awesome being at the Egg Bowl this past fall, in a year that was so different, and having the opportunity to do it again just felt like home."
Harrison describes his mom as his biggest fan, so it goes without saying that she wanted the best for her son for his college experience. She thinks he found that at Ole Miss.
"Despite being a larger university, Ole Miss has had a small-school feeling for him," Danelle McKinnis said. "The chemical engineering department is a hidden gem where the students are able to develop close-knit relationships with fellow students and professors. All of his professors were top-notch and invested in their students' success.
"This personal approach was what we saw when touring the university and was one of the main reasons he chose Ole Miss. These personal connections and relationships helped him develop skills which are invaluable."
Those who know Harrison are familiar with his intense curiosity, deep insight, drive for knowledge and propensity to ask big, challenging questions.
Ashleen Williams, instructor and senior Barksdale fellow in the Sally McDonnell Barksdale Honors College, has served as an adviser, mentor and friend to Harrison. During the last three years, she has learned a great deal by observing his growth as citizen scholar and from the questions he doesn't hesitate to ask.
"Harrison is one of those rare students I met by chance, and who pushes me to be better – a better educator, a better listener, a better friend," Williams said. "I've witnessed Harrison grow from being a talented student to a young man who leans into both his talents and capabilities and does not rest easy with mediocrity or intellectual laziness."
When asked what it means to him to earn a degree from Ole Miss, Harrison describes how the Civil Rights Monument and the four words on it have had a profound impact on him. He explains that James Meredith walks through the word "Courage," and "Perseverance" and "Knowledge" are on the sides. On the opposite side, Meredith walks out of "Opportunity."
"I think him walking through in that particular order is the perfect description of the arc of the college student," Harrison said. "Especially for Meredith as a civil rights titan, but any college student can look at that and see what it means to have a degree from this place.
"To have the courage to come here, to have the knowledge and perseverance to get through and then on the other side you have the opportunities to make your life better."
Looking ahead, Harrison will intern this summer with Exxon before heading to Cornell University in the fall to pursue a master's degree in chemical engineering. He's eager to enhance his education related to renewable energy.
His drive for this topic relates to his home state's complex relationship with energy and how he wants to explore the role that Mississippi could have in a transition to renewable resources.
As he prepares for the next step of his journey, Harrison reflected on how being a member of the Ole Miss family means building a home for other members of the family.
"Everyone plays some role in building your home or keeping your home maintained," Harrison said. "For Ole Miss, when you really buy in and become a member of the Ole Miss family is when you see it as more than a place just for yourself, and you work and act in a way every day that tries to make someone else's experience better or leave the place better for people after you."
Godspeed, Harrison McKinnis. Your legacy includes leaving Ole Miss better than you found it.
Story by Lisa Stone/University Marketing & Communications