Exercise science senior Rachael Larkin discovers her passion for healing through exercise
When Rachael Larkin, of Gainesville, Virginia, injured her knee playing soccer and needed physical therapy to rebuild the use of her leg, she became fascinated with understanding the mechanics of healing.
The University of Mississippi senior is set to graduate in May with a degree in exercise science – the study of human movement performed to maintain or improve physical fitness and improve health outcomes – to pursue her dreams of becoming a physician.
"Due to a knee injury in a soccer tournament, I was immersed into the physical therapy, orthopedic and athletic training worlds. I was always so excited about going to my appointments with all of these professionals in the exercise science field.
"It sparked my interest in learning how to properly do resistance training to keep the strength and support in my leg, which turned into a lifelong passion. I decided early in high school that I wanted to have a career working with athletes, so I've always been an exercise science major at Ole Miss."
With her sights set on medical school, exercise science inspires her to incorporate exercise and physical activity in prescriptions for her potential patients someday.
"If I become a general physician, I plan to include exercise as an important factor in all of my appointments," Larkin said. "Physical activity is always encouraged by physicians today but isn't something that is typically emphasized or prescribed often.
"I also love orthopedic surgery, but I will remain open-minded in the event I get to medical school and experience rotations. I would also like to be a physician for sports teams in the future."
Exercise science majors can expect challenging but interesting courses throughout the four-year program at Ole Miss and a supportive faculty to help along the way, Larkin said.
"The HESRM department is full of funny, inspiring and helpful professors and advisers who always have their doors open," she said. "Furthermore, the research that the department does is something that I am very proud to be a part of, where our lab teams are looking at exercise and memory relationships, the effect of COVID-19 quarantine on exercise among college students, Esports, exercise supplements and so much more."
Larkin's favorite class was Behavioral Aspects of Exercise Science.
"I love learning about the psychological influences on someone's physical activity," she explained. "Behavioral Aspects covered many psychological concepts, like self-efficacy and Maslow's hierarchy of needs, and translated them into the exercise science domain."
A member of the Sally McDonnell Barksdale Honors College, Larkin has been heavily involved in the department from her membership in research labs.
As a sophomore, she was one of the first students in the Physical Activity and Translational Health Lab. She studied different psychological concepts and applied them to the exercise science field, specifically the reversal theory – a psychological framework that describes the dynamics of human experience in a holistic and structured way.
"I learned how to interpret an exercise science article, and peer-review articles to be published in journals," Larkin said.
During her junior year, she transferred to the Exercise, Nutrition and Performance Lab, where she served as an assistant to Tom Andre, assistant professor of health, exercise science and recreation management, and as a participant in ongoing studies for doctoral students, including a study on casein protein supplementation and respiratory fitness.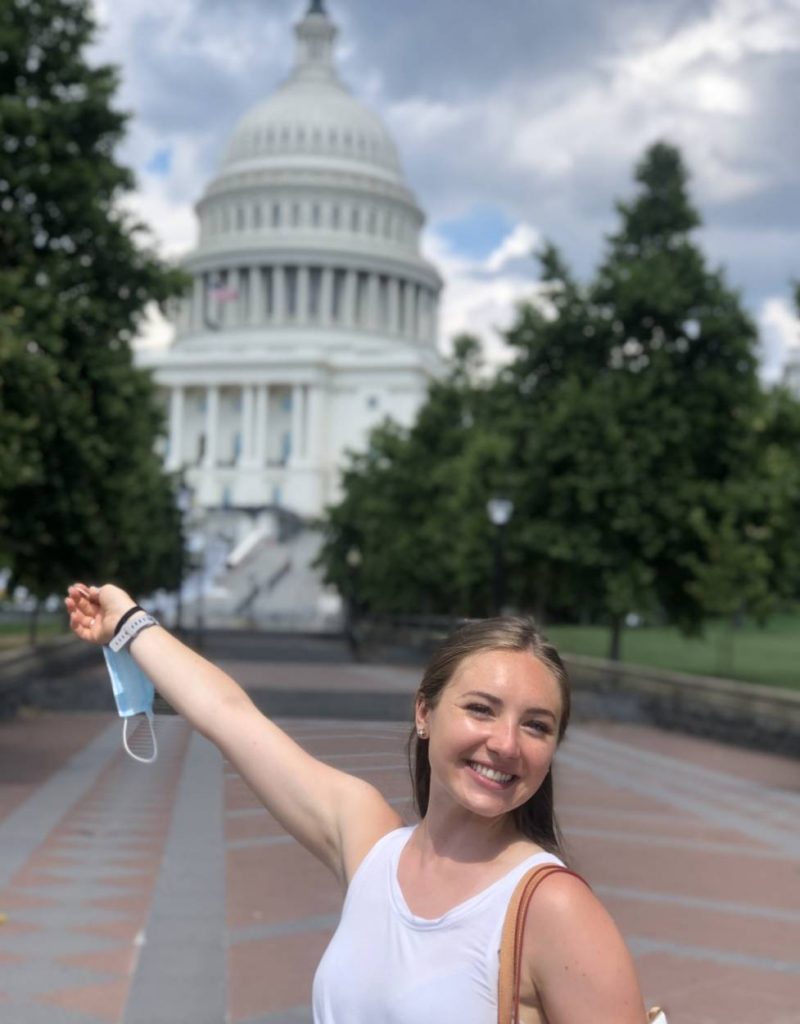 "Rachael shows outstanding work habits coupled with intelligence and a desire to do well in her education," Andre said. "Rachael exhibits maturity and a cooperative nature and shows an exceptional level of respect to her peers and professors.
"She has made efforts to work above and beyond her undergraduate work with a strong passion for helping others and engaging in research. Rachael will be a graduate the University of Mississippi can be extremely proud of."
Larkin has been conducting research for her honors thesis in Andre's lab.
"Although her original project was not able to be completed due to COVID, she adapted to examine physical activity levels of college students at different phases of the pandemic and the impact – if any – social media fitness influencers have on this."
Larkin is analyzing data from the survey responses and looks forward to presenting the findings and applications of this study when she defends her thesis in April.
Story by Sarah Sapp/School of Applied Sciences