Rebel tennis player Tereza Janatova overcame sports injuries, earns electrical engineering degree
Throughout her tenure at the University of Mississippi, Tereza Janatova has loved playing tennis. The game has often given her the thrill of victory, and two of those experiences are forever embedded in her memories.
"Last spring, I clinched the match against Texas A&M on the senior day in front of the home stand," said Janatova, a native of Nova Paka, Czech Republic, who will receive a bachelor's degree in electrical engineering with emphasis in biomedical engineering in May. "It was a big upset and also the last home match for two of my teammates, who I began my collegiate journey with as a freshman."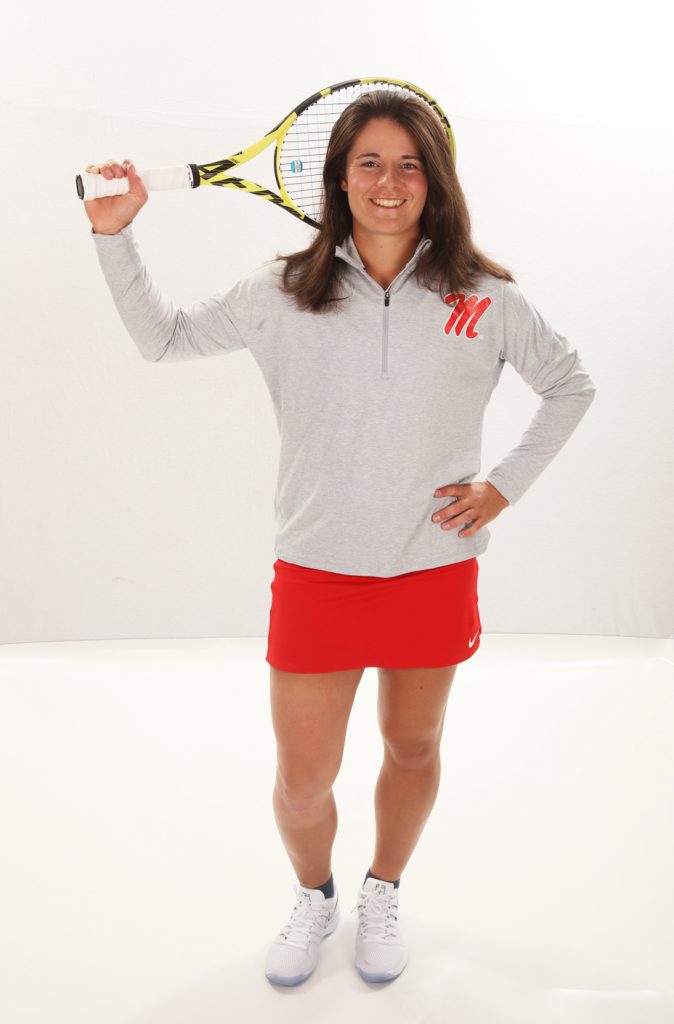 Janatova's other memorable moment came this spring when she and the team played a match against the University of Central Florida in Orlando.
"We were down 3-0 but were able to come back and beat a Top 15 team in the country," she said. "I happened to be the last match and clinched.
"My mind goes back to that moment when I won the last point and all my teammates started running towards me to celebrate our win. These two memories bring me a lot of joy."
Still, the international student athlete has endured her fair share of challenges.
"Being an international (student) whose native language is not English, I had to overcome the language barrier at the beginning," she said. "I also had to get used to being far away from my family."
Janatova first found out about Ole Miss when she was contacted by Mark Beyers, Ole Miss women's tennis head coach. Beyers recruited Janatova the summer before her senior year of high school.
"I immediately fell in love with Oxford, so it wasn't a hard decision to commit to play tennis and study at Ole Miss," she said. "While I've always been close to my own family, I found my 'family away from home' in my teammates and coaches."
Janatova's dreams of playing tennis also were interrupted when she had to deal with many injuries, including having to undergo two knee surgeries during the last five years.
"The recovery process wasn't always easy," Janatova said. "It took many weeks to just be able to move easily on campus from class to class and months to get back on the court.
"It is most rewarding to look back at these tough times and to be proud of the progress I have made to come back and be successful on the tennis court competing for the Rebels."
Janatova said her journey has taught her many life lessons that will be valuable in the future and have helped her grow as a person.
"Throughout my collegiate career, I have learned to be resilient and never give up on myself, no matter how hard things get," Janatova said. "Life always throws obstacles in your journey, but if you believe and keep going and working toward your goals, things always get better and the future will be promising."
Her plans are to enter graduate school and to continue competing as a member of the Rebel women's tennis team.
"Tennis has been a big part of my life since an early age," Janatova said. "I am very proud of being able to represent the Rebels and put the school uniform on every single day."
By Edwin Smith/University Marketing & Communications